Significant foreign exchange losses, as well as other one-time costs, plunged Asiana Airlines to a net loss, with the airline narrowing its operating profit for the third quarter.
In financial results for the three months to 30 September, the Star Alliance carrier swung to a net loss of W386 billion ($326 million). This compares to the W9.4 billion net profit it made in the same quarter last year.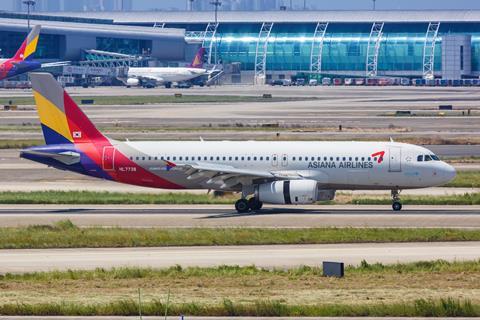 The airline took a hefty charge on foreign exchange losses — to the tune of some W208 billion, compared to the W112 billion exchange gain it made last year.
At the operating level, Asiana, which is being acquired by Korean Air, was W6.3 billion in the black, about 60% lower year on year.
Revenue for the quarter rose 32% to W1.07 trillion, led by revenue increases in international passenger and freighter services.
The carrier saw international passenger revenue inch up 6% year on year, while international freight revenue leapt 56%. On the domestic front, passenger revenues fell 11%, with cargo falling 31%.
The rise in revenue was outpaced by a 34% increase in costs for the quarter, to W1.06 trillion. Fuel and maintenance costs saw the most significant increases, while the airline managed to cut costs in rent and airport-related charges.
The airline ended the quarter with 80 aircraft, two fewer compared to the third-quarter of 2020. Three Airbus A320/321s and one Boeing 767 left its fleet, while the airline took delivery of two new A321neos. In addition, it converted two passenger A350s to temporary freighters.