China Eastern Airlines has returned a small number of Boeing 737-800s to service, flight recording data suggests, nearly a month after the type was involved in a fatal crash in southern China.
The airline resumed flying the 737-800 on 17 April, with one example (B-207L) operating flight MU5843 between Kunming and Chengdu. Since then, there have only been a handful of other aircraft that have returned to operations, while the majority of the fleet remains grounded, according to tracking site FlightRadar24.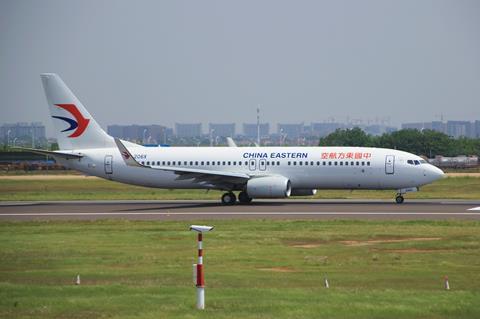 The SkyTeam carrier and its subsidiaries have a fleet of more than 200 -800s. The group swiftly halted the type's operations hours after one example crashed in central China.
On 21 March, a China Eastern 737-800 (B-1791/MSN41474) crashed near Wuzhou in Guangxi province in central China, killing all 123 passengers and nine crew on board.
The jet was operating service MU5735 from Kunming to Guangzhou, and had completed about three quarters of its flight when it plunged abruptly from 30,000ft to ground level.
The return-to-service comes amid the imminent release of a preliminary investigation report into China's worst aviation disaster in more than a decade.
Chinese civil aviation regulators have said they expect the report to be released by 20 April, and have promised a fair and transparent investigation process.