China Eastern Airlines has grounded its fleet of Boeing 737-800s, hours after one example crashed in central China.
State broadcaster CCTV first reported news of the operational ban, noting that it was only limited to China Eastern, and not other operators. However, the broadcaster but did not indicate how long the jets – a popular narrowbody among Chinese carriers – will be grounded.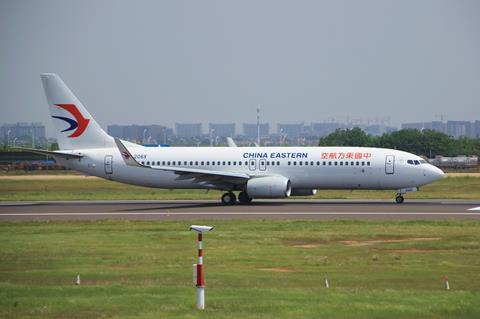 The Civil Aviation Administration of China (CAAC) also did not comment publicly about China Eastern's decision to halt 737-800 flights.
Checks on flight tracking site FlightRadar24 appear to confirm news of the type's grounding: China Eastern 737-800 flights from 22 March have been listed as cancelled.
On 21 March, a China Eastern 737-800 (B-1791/MSN41474) crashed near Wuzhou in Guangxi province in central China.
The aircraft, which was operating service MU5735 from Kunming to Guangzhou, was carrying 123 passengers and nine crew members. Search and rescue operations are ongoing, as are investigations into the cause of the crash, one of China's worst air disasters in years.
The US National Transportation Safety Board will also participate in the crash investigation, alongside representatives from Boeing, CFM International, as well as the Federal Aviation Administation.
According to Cirium fleets data, China Eastern operates more than 100 737-800s, which are aged between 2.8 and 13.3 years old. The airline's fleet makes up about 9% of China's total number of -800s.
Chinese carriers are prolific 737-800 operators, with more than 1,100 in-service jets. Against the global in-service 737-800 fleet, Chinese-operated jets make up more than a quarter of the total numbers, according to Cirium fleets data.
News of the grounding comes as more details emerge about the crash. Late 21 March, video footage – purportedly close-circuit television recordings taken near the crash site – shows the jet plunging in a near-vertical nosedive towards thick foliage.
The aircraft is also seen to be shedding parts as its plunges from high altitude.
Flight tracking data for flight MU5735 indicate that the aircraft had completed about three quarters of its flight when it plunged abruptly from 30,000ft to ground level.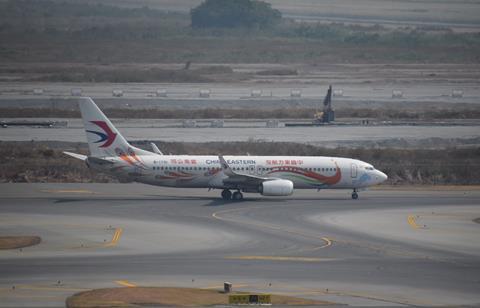 Separately, China Eastern refuted allegations of cost-cutting in aircraft maintenance, which surfaced in the immediate aftermath of the crash.
A Chinese social post on 21 March alleges that the airline "cut corners" in maintenance – amid pressures to keep costs down – but stopped short linking it to the crash.
In a separate interview, a representative from the SkyTeam carrier rubbished the claims, stating that the airline "has been committed to providing safe and reliable maintenance engineering services". The carrier adds that maintenance costs for 2021 have gone up by 12% year on year.
News of the crash has also prompted a rare call from Chinese leader Xi Jinping for an "all-out" rescue operation, as well as to find out the cause of the incident.