US accident investigators and representatives from Boeing and the Federal Aviation Administration plan to depart this week for China, where they will assist with that country's investigation into the 21 March crash of a China Eastern Airlines 737-800.
China has issued visas to investigators with the National Transportation Safety Board (NTSB), and to "technical advisers" from the FAA and Boeing, the NTSB says in a 29 March tweet.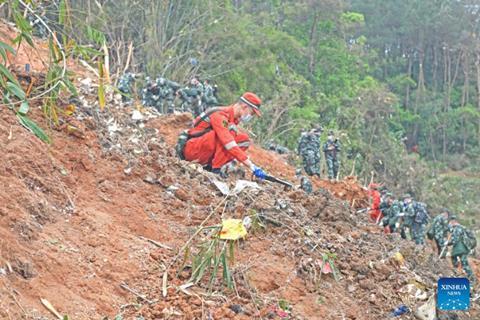 The group will support the Civil Aviation Administration of China's (CAAC) investigation in the crash of flight MU5735, which killed everyone aboard the aircraft, including 123 passengers and nine crew.
"The team hopes to depart this week," adds the NTSB.
CFM International, which manufactured the jet's CFM56 turbofans, does not plan to send representatives to China as part of the investigation. That company will support the NTSB's work as a technical advisor, according to CFM and the NTSB.
The cause of the crash remains open to speculation. The aircraft (registration B-1791) had been operating a flight from Kunming to Guangzhou. About 1h after taking off, it descended rapidly from about 30,000ft, crashing in an apparent vertical dive.
Investigators located the jet's cockpit-voice recorder on 23 March. They have also recovered components including an engine gearbox and sections of the jet's wings.
Despite participating in the investigation, the NTSB says it will not release any information about the crash, noting that China has that authority under ICAO protocols.
The CAAC has said it expects to issue a preliminary report about the crash by 20 April.