Latin American operator LATAM Airlines Group is expecting to exit its US bankruptcy-protection process in the second half of this year after its restructuring plan secured court approval.
The operator says the plan has been backed by "nearly all" of its creditors, following months of negotiation and mediation which, according to a relevant 18 June court document, "bore fruit".
Major shareholders – including Delta Air Lines, Qatar Airways and Grupo Cueto – as well as key creditors have agreed to support a $5.4 billion financing package which is the "core" of the economic plan, the document states.
The court has overruled objections to the plan – among them assertions of unsecured claims against carrier TAM, and a claim that the plan violates Chilean law – and states that it satisfies the requirements of the bankruptcy code.
LATAM says the confirmation order from the court is the "latest milestone" in the process which began when the company and affiliated debtors filed voluntarily for Chapter 11 protection in May 2020.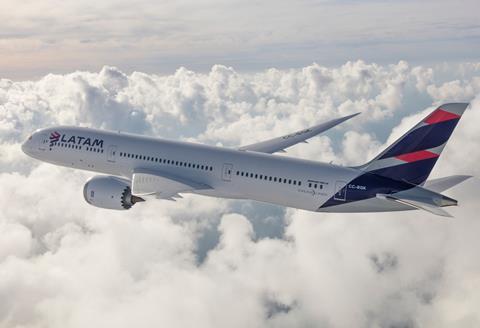 "This is a very important step in the process to emerge from Chapter 11, and we will continue working hard to complete the remaining steps in the coming months," says chief executive Roberto Alvo.
The new capital structure contained in the plan requires approval at an extraordinary shareholders' meeting.
LATAM says the plan will involve injecting about $8 billion into the company, including the $5.4 billion finance package, through a capital increase, and the issue of convertible bonds and new debt.