Latin American operator LATAM Airlines Group is expecting to exceed pre-crisis revenues next year, and has hiked annual cost-saving estimates to more than $1 billion, in a revised business outlook as it prepares to exit US Chapter 11 protection.
Its new five-year forecast sees the operator's revenues reaching nearly $11.5 billion in 2023, increasing to $13.9 billion in 2027.
Operational cash-flow will reach more than $2 billion next year. The company is projecting EBIT of $643 million in 2023, rising to more than $1 billion the following year and then progressing with a steady annual increase.
The company claims it will emerge from Chapter 11 protection "stronger than ever".
It has cut its full-time workforce by some 12,000 positions – more than a quarter from 2019 levels – in order to slash its ex-fuel unit costs, renegotiated around 1,000 contracts and rejected those which are non-competitive.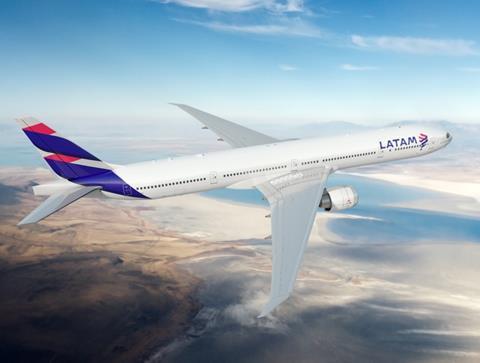 LATAM states that its overall revised capacity plan is based on recovery in market demand being 5% higher than assumed in its previous version.
It projects that international traffic will return to 2019 levels by mid-2023, pointing out that this sector accounted for some 45% of revenues prior to the pandemic. By 2027 passenger traffic in the long-haul market, including demand associated with the Delta Air Lines joint venture, will be 21% above pre-crisis figures.
But international traffic recovery will still lag that of regional operations, which LATAM forecasts to rebound by the fourth quarter of this year – about a year ahead of previous expectations.
LATAM also predicts that all its domestic markets will reach pre-crisis figures by the end of this year. Colombia has already recovered, with Brazil and Ecuador set to return in the third quarter, followed by Chile and Peru in the fourth.
This track brings forward the overall average domestic recovery projection from the fourth to the third quarter.
"Our updated business plan reflects how LATAM is better prepared to face future challenges, with a more competitive and flexible cost structure, a more complete offering for customers and important progress towards more sustainable aviation," says group chief Roberto Alvo.
The company says it has been negotiating usage-based terms for the "majority" of its fleet, and securing reductions in lease rates.
LATAM is rationalising its fleet, having reduced it from 341 to 301 aircraft, and expects to have 306 by the end of the year.
It refers in its plan to fleet simplification, including the withdrawal of its 13 Airbus A350s and consolidation of its Brazilian operation with Boeing 777s and 787s. Removal of older Airbus A319s and A320s have also reduced LATAM's single-aisle total.
The company forecasts a fleet of 326 by 2027, comprising 61 long-haul, 246 single-aisle, and 19 freighter aircraft.
LATAM has halved its passenger Boeing 767 fleet to 15 but is converting a number of 767 airframes to freighters.
Cargo is a crucial part of the operator's activity. It expects cargo capacity to rise by close to 40% above pre-crisis level over the next five years as its expanding freighter fleet is supplemented by belly capacity in the recovering long-haul passenger sector.