LATAM Airlines Group reports "substantial improvement" in earnings during the first quarter of 2022, though market conditions remained challenging for the Chilean flag carrier.
The airline generated first-quarter revenue of $1.96 billion, up from $913 million in the same quarter last year but still down from $2.53 billion in the same three months of pre-pandemic 2019, LATAM says on 10 May.
It lost $381 million in the first quarter, improved from last year's first-quarter loss of $433 million. The airline lost $60 million in the first quarter of 2019.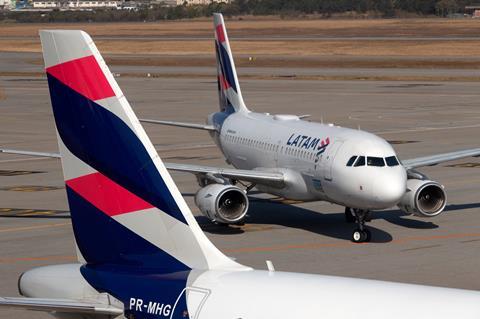 "We have had a substantial improvement in our results compared to the same period of 2021, even in a challenging environment," says chief executive Roberto Alvo. "We continue to be cautiously optimistic about the future, since even though we are witnessing a healthy recovery of passenger demand, the rising fuel price is a variable that we are closely monitoring."
"As in previous quarters, most of the improvement has been driven by the affiliates' domestic operations, however the continued favourable context for air travel in the region in terms of travel restrictions and vaccination processes has also led to further recovery of the international segment," the company adds.
LATAM's cargo segment posted revenue of $430 million during the three months that ended on 31 March, a 64% increase from the same period in 2019, "reaffirming the success of the cargo affiliates' performance and the group's dedication to investing in its growth".
LATAM previously said it is converting 10 Boeing 767 passenger aircraft to cargo freighters by the end of 2023. One of those was received in December, and the second in March. Two further airframes are expected this year.
The Santiago-based airline is still working through its bankruptcy protection process, which could come to a close in a the coming weeks. Earlier this month, the company said 65% of its creditors approved the company's restructuring plan. It is slated to go before a US bankruptcy court for final confirmation next week.
In mid-2020, LATAM and regional peers Avianca and Aeromexico voluntarily entered the Chapter 11 bankruptcy protection after a precipitous decline in travel demand following the Covid-19 outbreak.
Avianca and Aeromexico have each completed their restructuring.
At the end of the first quarter, LATAM had 299 aircraft in its fleet, and plans to add 72 more between now and 2028.