Icelandair Group is dismissing its entire cabin crew corps and placing the responsibility for on-board safety with Icelandair's pilots, after efforts to reach a new collective bargaining agreement failed.
Cabin crew members with the FFI union rejected a tentative agreement on 8 July and Icelandair Group says subsequent talks have ended without conclusion.
"Although the negotiations were continued after the results of the voting were announced, it has now become evident that a mutually agreed conclusion will not be reached," says the company.
The operator has been seeking new employee agreements as part of its efforts to restructure and reinforce its liquidity.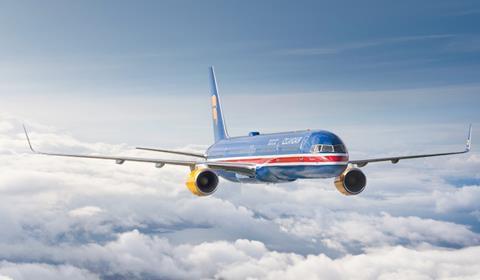 Icelandair says that, as a result of the cabin crew impasse, it will "permanently terminate" the employment of its current cabin crew members and "permanently discontinue" the employment relationship between the parties.
All cabin crew for the airline are FFI union members.
Icelandair Group says that, following the decision to end talks, 38 cabin crew have been laid off while 900 had previously been laid off in May as a result of the pandemic impact on operations.
The company says it has been exploring other options to ensure safety and service on board, and has turned to pilots who are currently on standby to take on the cabin crew responsibility.
Pilots will "temporarily" pick up the tasks from 20 July, says Icelandair. They will primarily occupy a safety role, as the coronavirus crisis means services will continue to be minimal.
The airline has not given an indication as to how long the temporary situation will last, stating only that it will rely on pilots "until a new agreement is reached with a new union".
Icelandair Group says it intends to embark on discussions with a "counterparty" in the Icelandic labour market on future terms for cabin crew members.
Members of the FFI union had convincingly rejected the tentative collective bargaining agreement, with nearly 73% against compared with 26% in favour.
"That the new wage agreement has been rejected clearly shows the members consider the streamlining demands in the agreement have gone too far," said the union following the ballot.
It has yet to respond to Icelandair Group's decision to dismiss all its cabin crew.