Kuwait Airways is looking to take advantage of increasing cargo demand with the acquisition of dedicated freighters for its fleet.
Speaking to FlightGlobal at the Arab Air Carriers Organization conference in Abu Dhabi, chief executive Maen Razouqi said he believed the airline could support up to five freighters.
"We don't have a full freighter," he says. "We would take them tomorrow because the market is there."
The airline is "in discussion" over the possible introduction of cargo aircraft.
Kuwait Airways is modernizing its fleet with Airbus A330-900s, having changed up to the larger aircraft from the A330-800.
Razouqi says the airline is building a 60:40 narrowbody-to-widebody operation, with the Airbus twinjets complementing the Gulf carrier's Boeing 777-300ERs on long-haul routes.
But the airline also plans to deploy long-range Airbus A321LRs as part of a revamp of its single-aisle fleet, which will include six A321neos as well as nine A320neos.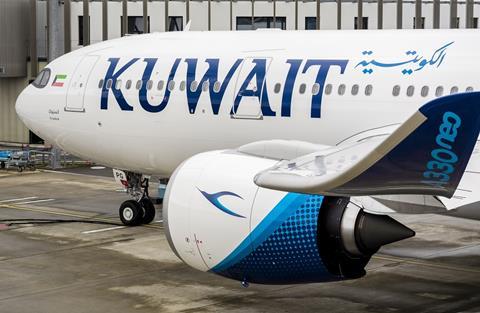 Kuwait Airways will substantially expand its network with the additional capacity, adding 10 new destinations over the winter schedule and a further 15 in summer next year.
This will amount to a 50% growth in the network, says Razouqi.
While the airline already has a large number of pilots in training, it is looking to increase its cabin crew numbers by 50% this year – adding around 500, of which 300 have already been hired.
"During the pandemic this was the most affected resource," says Razouqi.
Update of the fleet is crucial to Razouqi's ambition to complete the transformation of the flag-carrier to be the most efficient airline.
Razouqi – who was appointed to the top post a year ago – said he had started a "three-year journey" intended to "gain the highest level of value to our shareholders and the state of Kuwait".
The carrier has labored under an inefficient structure, and the need for an overhaul became particularly pressing when the government opened the Kuwaiti home market to new airlines – including budget operator Jazeera Airways.
Kuwait Airways has edged towards being leaner, says Razouqi, with a 20% reduction in management and exploration of potential outsourcing of the non-core jobs.
He says the carrier is aiming to break even by the end of 2024, and that he is "confident" about the target – stating that the airline has cut losses by 63% this year.
"There's a huge opportunity to execute, if we don't add cost," says Razouqi.