Kuwait Airways is weighing the Boeing 777F and the Airbus A350F as it looks to enhance its cargo division, a strategy through which it expects to acquire a fleet of dedicated freighters.
Newly-appointed chairman Abdulmohsen Alfagaan, speaking to FlightGlobal at the Arab Air Carriers Organization conference in Riyadh, stressed the increasing importance of cargo in the region – highlighting the activity from China to support government infrastructure projects.
"To concentrate on cargo we plan for freighter aircraft," says Alfagaan, indicating that Kuwait Airways would look at three aircraft initially and potentially expand to five by the end of 2030.
He says the airline could make a decision by the end of next year, but states that several factors – such as slot availability – have to be considered.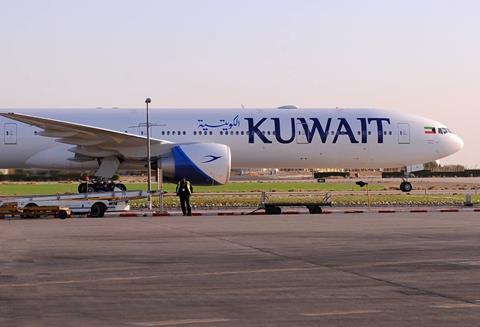 Kuwait Airways' cargo business currently involves using the hold capacity on passenger aircraft, and it would continue to exploit this availability rather than introduce narrowbody freighters.
"We have a cargo village already," adds Alfagaan. But while there is infrastructure in place, he states, the airline needs to "build up" the administration and sales in order to develop a strong freight arm.
Although IATA has flagged concerns over the post-pandemic state of global cargo activity, Alfagaan says cargo is an "all year round" business – unlike the seasonal passenger sector – and that the Middle East "depends on importing many things".