Kuwait Airways' latest full-year financial statement shows the flag-carrier sustained a net loss of KD264.5 million ($870 million) during the pandemic-hit 2020.
The airline's revenues sank by 64% over the year, to just under KD138 million.
Kuwait Airways had already been unprofitable before the crisis, turning in a 2019 net loss of KD107 million.
The airline was badly affected by restrictions imposed by the emirate's government, suspending all inbound and outbound flights on 7 March 2020.
"Being an international airline and consistent with the industry trend, a significant portion of the group's capacity had to be reduced," the carrier states.
Kuwait Airways' fleet in 2020 comprised 30 aircraft. But the airline was limited from April 2020 to essential travel and specific repatriation flights, plus cargo-only services.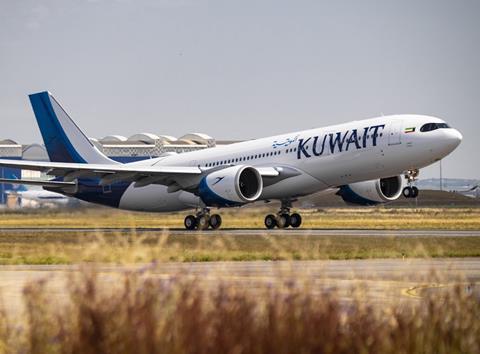 Despite the extraordinary loss, the airline's management says it "does not consider" the figures indicate existence of any material uncertainty regarding the airline's ability to continue as a going concern.
The company received KD212 million from its shareholder in March 2020 – part of an overall planned capital increase of KD374 million – to finance fleet expansion and its business strategy, and the airline had positive total equity at the end of the year.
Kuwait Airways also took several cost-saving steps in 2020 to counter the effects of the downturn, shifting aircraft deliveries, cutting its workforce by 21%, converting Boeing 777-300ERs temporarily into cargo configuration, negotiating lower rates with maintenance providers and other suppliers, and deferring capital expenditure.
It says it expects to return to "pre-crisis performance" in 2024.
Kuwait Airways recently agreed to modernise and restructure its fleet with a range of Airbus models under a revised deal with the airframer.