Expanding European low-cost carriers Ryanair and Wizz Air both saw traffic levels soar in June, underlining their return to growth since the pandemic.
Ryanair in June recorded its busiest traffic month since the crisis – the third month in a row that it has hit that milestone – and its highest load factor for more than two years.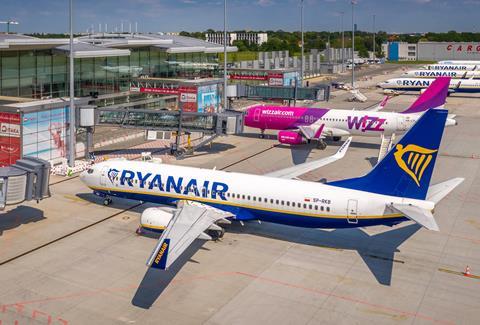 The Irish carrier flew 15.9 million passengers in June, further improving on the 15.4 million it carried in May. It compares with the 14.2 million it flew in June 2019 and marks the carrier's highest monthly passenger figure.
June's passenger load factor of 95% was the highest Ryanair has recorded since before the pandemic hit in February 2020.
Ryanair has rapidly returned to growth and is targeting flying around 165 million passengers for the year ending March 2023. That would surpass its pre-Covid high of 149 million.
The Irish carrier alongside budget rival Wizz Air are the first European airlines to report traffic for June. Wizz also recorded its busiest ever traffic levels last month, in carrying 4.3 million passengers. This outstripped the 4.1 million passengers it flew in May and is nearly a million higher than the 3.4 million it flew in June 2019. Load factor stood at 86.1% in June.