Budget carrier Ryanair is to retrofit scimitar winglets across more than 400 Boeing 737-800s in its fleet, in order to trim fuel consumption.
The retrofit programme will commence during the winter season, the airline states, and represent an investment of more than $200 million.
Scimitar winglets are an evolution of the blended winglet on the 737, and incorporate curved aerodynamic tips and a ventral strake.
Ryanair says the agreement covers 409 aircraft and will cut fuel-burn by 1.5%.
It referred to the agreement in a half-year briefing in which Ryanair Group revealed a net profit of €1.37 billion for the six months to 30 September, higher than its last pre-crisis figure. This included €4.9 million from Malta Air and €22.4 million from other group airlines.
Ryanair attributes the performance to "record" traffic in the second quarter, "robust" summer fares, and "strong" operational reliability.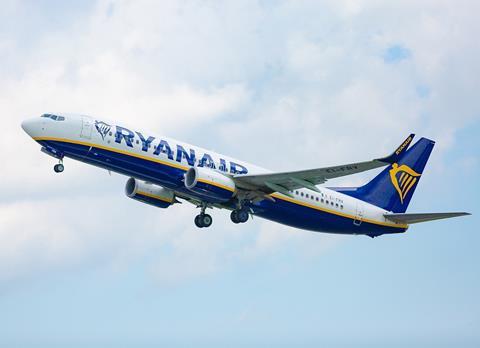 The carrier had introduced a total fleet of 73 Boeing 737 Max jets across its group fleet by the summer peak, rising to 77 by the end of September, but it is irritated by delays in deliveries.
Ryanair is expecting only 10-12 additional Max arrivals before the Christmas holiday period, out of 21 contracted, and chief executive Michael O'Leary claims growth is "being hampered" by the "inability" of Boeing to meet the third-quarter timetable.
He adds that Boeing has assured the airline that it will complete all 51 of the Max deliveries scheduled before summer 2023 – pointing out that 2023-24 growth plans are based on these fleet additions – but states that there is a "risk that some of these deliveries could slip".
While O'Leary says the carrier remains dependent on Boeing' meeting its delivery commitments, it is "modestly" raising its full-year 2022-23 activity forecast to 168 million from the previous 166.5 million.
This would equate to a 13% increase over pre-pandemic figures.
O'Leary says he hopes that full-year fares will remain ahead of pre-crisis levels, but cautions that yields could still be affected at "very short notice" by events in the second half.
But if such setbacks are avoided, O'Leary says the airline could "minimise" winter losses and deliver pre-exceptional net profits of €1-1.2 billion for the full year.
"This cautious guidance will remain hugely dependent on not suffering adverse events this winter – as we did last, which were clearly beyond our control," he states.