Ryanair and Boeing have finally negotiated an order for 737 Max 10s, with an agreement covering 300 of the type, which will be configured with 228 seats.
The deal – yet to be finalised – comprises 150 firm and 150 optioned jets which will be delivered over the course of 2027-33.
Ryanair values the agreement at more than $40 billion at catalogue prices. Shareholders will vote on the order at a 14 September meeting.
The carrier says the expansion will support growth to 300 million annual passengers by March 2034, from the current 168 million.
Group chief Michael O'Leary describes the Max 10 as the "ideal growth aircraft" for the carrier.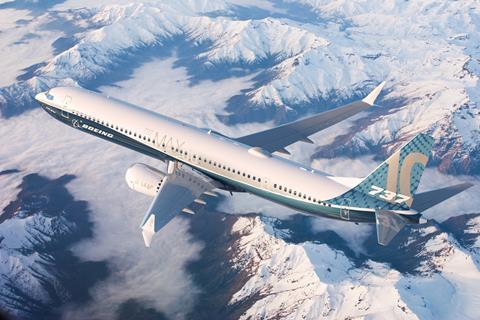 "The extra seats, lower fuel burn and more competitive aircraft pricing supported by our strong balance sheet, will widen the cost gap between Ryanair and competitor EU airlines for many years to come," he adds.
All 737 Max twinjets are powered by CFM International Leap-1B engines.
The budget carrier disclosed the agreement during a briefing on 9 May.
Ryanair had previously discussed an order for the largest variant in the Max family, but called off the talks in 2021 citing an inability to close the price gap.
The airline had 523 aircraft at the end of 2022 including 84 of the 737 Max 8-200, a high-density version of the Max 8.
Ryanair also began modifying its fleet of 737-800s last year with scimitar winglets to assist with cutting fuel consumption.