Ryanair Group generated an operating profit of €254 million ($294 million) and a net profit of €225 million for the second quarter, evidence of a recovering summer period for the budget operator.
Its main carrier, Ryanair, contributed a net profit of €164 million while Malta Air achieved a profit of €32 million, with a further €28 million coming from the group's other airlines.
The group turned in revenues of €1.78 billion for the three months to 30 September, including over €700 million from ancillaries.
This meant revenues rose at a faster rate, 70%, than the 47% hike in expenditure. Fuel costs increased by two-thirds during the quarter.
Over the three months the company increased its fleet of Boeing 737 Max 8-200 jets to 20, and it expects to have over 65 of the new variant in its group fleet by summer 2022.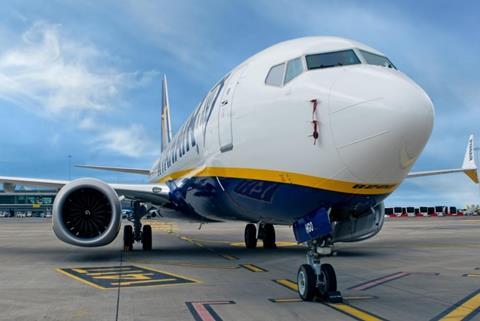 "While load factors have yet to recover to [pre-crisis] levels, the performance of the [Max 8-200s] has exceeded our expectations this summer," says the company.
"Operational reliability, fuel consumption and [carbon dioxide] emissions have, so far, exceeded guidelines with very positive passenger and crew feedback to these new, more fuel-efficient, quieter aircraft."
Ryanair claims the twinjets – of which it has ordered 210 – will "further widen the cost gap" against its European competitors.
Over the next five year the airline will increase its fleet with the aim of transporting 225 million passengers by 2025-26.
Ryanair Group's overall fleet comprises 438 737s plus 29 Airbus A320s.