South Africa's government is insisting that flag-carrier South African Airways will not be liquidated, and that it will detail measures relating to funding the airline in upcoming legislation.
Its department of public enterprises gave the reassurance as creditors met to discuss the airline's future, after its rescue practitioners warned that critical funding had not been delivered.
The department says there are 20 unsolicited expressions of interest under evaluation from potential investors in a restructured SAA.
It adds that the government will "reprioritise" funds to finalise this restructuring and implement the rescue plan developed for the airline.
This measure will be part of upcoming legislation, the Adjustments Appropriation Bill, which will be put before parliament.
"The national carrier will not be liquidated," says the department.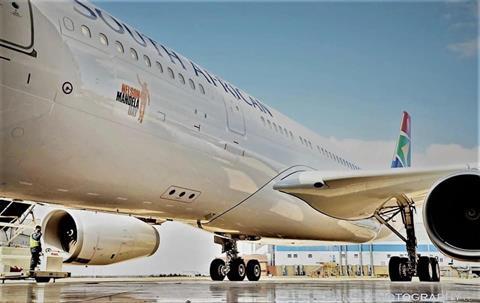 It had pleaded for "patience" after the creditors' meeting was called, insisting that efforts to locate funding sources were continuing, adding that it remained "sympathetic and deeply mindful" of SAA employees' situation.
The department reiterates its belief that SAA needs to secure a "credible" strategic equity partner that can offer specialist technical, financial and operational knowledge to the relaunched airline.
It stresses that the government is working with transaction advisors to evaluate proposals from "several" potential equity partners for SAA.
South African union NUMSA is claiming that workers at SAA – as well as regional operator SA Express, which has also been subject to business rescue – have not been paid "for months".
"We demand that [the treasury and department of public enterprises] put funding into SAA as they promised," it says. "Where is the money?"
The opposition Democratic Alliance party has accused the government of "fudge and bumbling" over SAA, claiming it has "misled" the country regarding a R10.4 billion ($640 million) funding package for the airline's rescue.
It believes the finance ministry and treasury have not agreed to provide the financial support, and that "no funding" will be supplied in the near future. The party is vehemently objecting to any taxpayer-funded bail-out of SAA, which it describes as a "dead duck".