Sixteen US senators have requested additional financial aid for the aviation sector as the coronavirus continues to prevent a return to normal operations.
In a letter to Senate leadership, the group of republican senators advocates for additional funds, saying on 5 August that the industry needs more time to recover from the crisis that brought air travel to a near-standstill earlier this year.
Travel restrictions imposed across the country and overseas depressed demand between March and June, and they continue to disrupt the industry on a global scale. In the past month, airlines have reported billions of dollars in losses for the second quarter.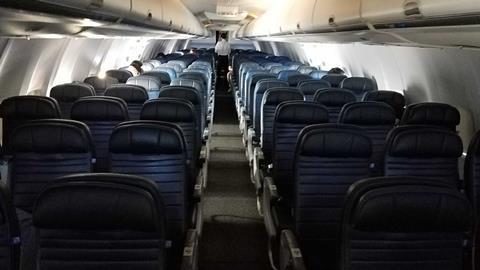 The senators join a large group of mostly democratic party members of the House of Representatives who last week also requested an extension to the financial support granted earlier this year as part of the CARES Act, designed to help airlines manage their liquidity squeeze after the drop-off in passenger demand.
That ensures bipartisan support for the request, and increases the chances that it will be included in a further coronavirus aid package currently being discussed in Congress.
"While we understand air travel levels have increased since March, they still remain far below 2019 levels," the senators write, adding that numerous airlines have already said tens of thousands of jobs are at risk in the coming weeks.
"For these reasons, we support a clean extension of payroll support for passenger air carrier employees included in the CARES Act to avoid furloughs and further support those workers," the lawmakers say.
Asked about further support for airlines at a press conference on 5 August, President Donald Trump says, "We don't want to lose our airlines so if they're looking at that, whether they're Republican or Democrat, I'd be certainly in favor."
In March, the government provided $58 billion in grants and loans to the airline industry as part of the $2 trillion CARES Act, which helped carriers continue to pay staff as the coronavirus swept across the globe. The financial package was granted under the condition that the airline recipients did not furlough or lay off any employees before the end of September.
With that deadline fast approaching, many industry players ranging from unions to airline managements have called on Congress to consider extending the programme for another six months, in order to give the sector more time to recover.
In the past several weeks, US carriers have said that they would be furloughing up to 75,000 employees when the relief expires on 1 October, sending out federally mandated 60-day advance warning to workers that their jobs could be in danger at that time.
Pilot unions Air Line Pilots, International (ALPA) and flight attendant union Association of Flight Attendants-CWA have been vocal in calling for the extension of federal aid, with executives at major airlines saying they support the unions' requests.
"With air travel anticipated to remain low in the near future, Congress should also consider provisions to support and provide flexibility for businesses across the aviation industry similarly impacted, such as airport concessionaires and aviation manufacturing," the senators' letter states.