US House of Representatives speaker Nancy Pelosi has promised relief for the aviation industry a day after airlines began furloughing staff as government financial aid expired.
Pelosi says on 2 October that she will support standalone legislation to help the thousands of aviation workers whose jobs are in danger, should a broader coronavirus relief bill fail to pass in Congress. She also called on airlines who have already begun furloughing workers to stop.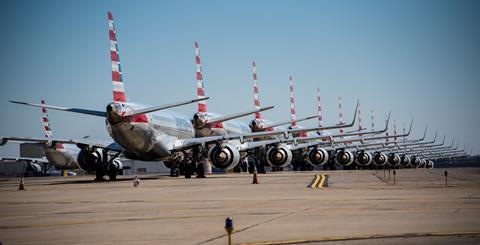 "The massive furloughs and firings of America's airline workers jeopardise the livelihoods of tens of thousands and threaten to accelerate the devastating economic crisis facing our nation," Pelosi says. "Today, I am calling upon the airlines to delay their devastating job cuts as relief for airline workers is being advanced in Congress."
On 28 September, House Transportation and Infrastructure Committee chairman Peter DeFazio introduced a bill to grant airlines an additional $25 billion, to assist them through the liquidity squeeze as passengers remain wary of travelling.
That extension, known colloquially as CARES-2, offers airlines an additional $25 billion in grants, and builds upon the original bill from earlier this year, whose provisions expired on 30 September. Conditions for the additional grants remain the same as in the first aid package, protecting workers from involuntary furloughs until 31 March 2021.
A similar bill was introduced into to the Senate, but lawmakers from the two houses of Congress have not agreed on details.
"We will either enact chairman DeFazio's bipartisan stand-alone legislation or achieve this as part of a comprehensive negotiated relief bill, extending for another six months the Payroll Support Program," Pelosi says. "This initiative is focused solely on the workers, keeping them on the payroll so these workers maintain their critical training and certification requirements unique to their industry."
"As relief for airline workers is being advanced, the airline industry must delay these devastating job cuts," Pelosi adds.
In the past weeks, US airline CEOs have repeatedly met with government officials to lobby for additional payroll aid. Unions and trade organisations have joined in, launching a coordinated appeal to extend the support into next year.
Major legacy airlines United Airlines and American Airlines alone began furloughing 32,000 workers on 1 October, and said if an agreement is reached in the next few days they will reverse their decisions.