As air travel struggles to return to pre-coronavirus levels, the industry is adopting new patterns of operating that might become permanent during a prolonged recovery, the airline trade group Airlines for America (A4A) says.
In particular, airlines are likely to continue to offer customer flexibility, to periodically rethink fleets and routes, and focus on retaining a core group of employees.
But any meaningful recovery will also require widely accepted vaccination, A4A's vice-president and chief economist John Heimlich tells the International Aviation Forecast Summit in Cincinnati on 12 October.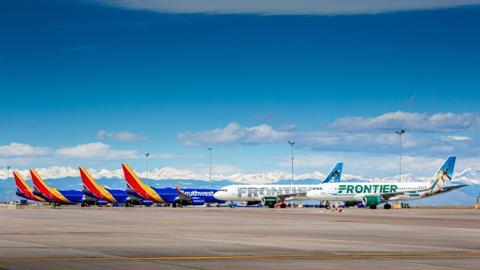 "It's a five year proposition just in terms of raw volume," Heimlich says. The challenge will be "getting at least 50%-70% of the population" to get the vaccine, he says.
While all of the long-term effects of the coronavirus on air travel are not yet clear, A4A says there are new trends emerging which may end up benefiting the commercial aviation industry, despite the ongoing dearth of travellers.
For example, Thursdays and Mondays are beginning to be more popular with travellers as numerous jobs have moved to a "work-from-a-place-other-than-the-office" model, he says. That means potential passengers have more flexibility when they are able and willing to travel.
FORWARD PLANNING
Now that most US airlines have eliminated change fees on many fares, customers who are looking to take a leisure break or visit family and friends in a different city have started increasingly making their bookings 14-30 days out. That's further into the future than in recent weeks. A4A says these new policies could be driving some of the renewed confidence in air travel, even though passenger demand remains on a very low level.
"People are constantly worried about quarantines and restrictions" at their outbound destinations, but also when they return home, Heimlich says. But customers "now may have more confidence to book further in advance because they know they have more flexibility to change the bookings."
"Demands of a leisure-oriented traveler are quite different from a business traveller," he adds, with airlines plotting more extensive networks and new routes that focus on travel primarily for fun rather than for work. "Long haul international and corporate will lag [leisure travel], that's where the real question will be."
According to US Department of Commerce statistics quoted by the trade group, Mexico was the clear leader in US-international travel in September, with 946,000 passengers. Of those, about two-thirds were US citizens going to Mexico. That country, along with Brazil, were the only two countries to which US citizens have been able to travel freely since the beginning of the coronavirus pandemic.
Many nations in Europe and Asia still require US citizens to quarantine upon arrival, or have closed their borders completely to them.
Overall, international travel is still 88% lower than in the same period a year ago, Heimlich says. Non-citizen arrivals are 90% lower, and US citizen departures are 85% lower.
REBUILDING WITH FEWER WORKERS
Following the expiration of government aid earlier this month, most US carriers furloughed thousands of workers in order to remain solvent and now must attempt to rebuild their companies with fewer staff.
Airlines need to be cognizant of the effect that these furloughs will have on the remaining workforce, Heimlich says. Retaining talent and boosting morale through the crisis period will become critical for the companies.
"All carriers have seen cuts and you want to get through this with a talented, energized work force that wants to stay there and be enthusiastic for the customer base," he adds. Airlines "always worry about cutting too much or the wrong way."
US lawmakers from both sides of the political aisle are squabbling about a six-month extension to the aid, with the airlines saying that they would reverse furloughs already made if a deal is accomplished in the coming days.