Virgin Australia will operate only Boeing 737s, focusing on its domestic and short-haul networks, as it enters a post-administration future with new owner Bain Capital.
As part of the "resetting…to meet lower global and Australian demand", the carrier, which entered voluntary administration in April, will also be cutting about 3,000 staff, and shutting down its low-cost arm Tigerair Australia.
Outlining these measures in detail, Virgin Australia stresses that it will simplify its fleet "to realise cost efficiencies and remove operational complexity".
For mainline operations, the Brisbane-based carrier will operate only 737s, and eliminate 777s, Airbus A330s and ATR 72s from the fleet.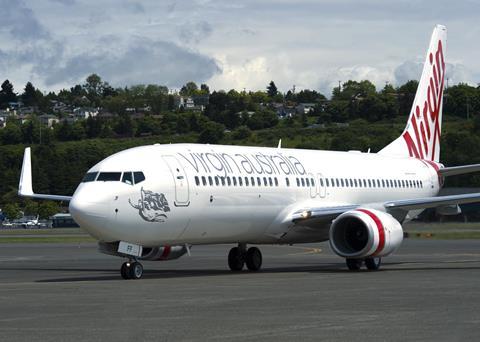 Cirium fleets data indicates that Virgin Australia has 27 737-800s in operation, and a further 35 in storage. It has another two 737-700 and 12 ATR 72s in storage. The carrier has 40 737 Max aircraft on order as well.
Virgin Australia's international division, meanwhile, has 12 737-800s and three 777-300ERs in operation. It has six A330-200s, three 737s and two 777s in storage.
In its latest plans, Virgin Australia did not state how many 737s it will operate, or the fate of its 737 Max orders, which are deferred to 2021.
The carrier will also discontinue its long-haul international network, choosing instead to focus on domestic and short-haul operations.
Stressing that long-haul operations "are an important part" of the the business, Virgin Australia says it will continue to suspend flights to Los Angeles and Tokyo, "with the intention to recommence and grow long-haul flights when sufficient demand returns."
The carrier has had to trim its long-haul network recently, as part of cost-cutting measures, and due to international travel restrictions arising from coronavirus outbreak control measures. In February, it bowed out of the Hong Kong market, leaving only Los Angeles and Tokyo in the network.
Virgin Australia now operates a reduced network of services to 28 points across Australia, and says it will continue to ramp up frequencies and destinations as travel demand picks up.
In its move to a leaner operating model, the carrier will be reducing its workforce by about 3,000 staff. These roles fall primarily "across the operations functions, and corporate roles which directly support the operation", Virgin Australia states.
"While devastating for our people, making these changes now will secure approximately 6,000 jobs once market demand recovers, with potential to increase to 8,000 jobs in the future," the carrier adds. Before it entered administration, Virgin Australia employed about 10,000 staff.
On its restructuring plans, Virgin Australia group chief Paul Scurrah says: "Demand for domestic and short-haul international travel is likely to take at least three years to return to pre-Covid-19 levels, with the real chance it could be longer, which means as a business, we must make changes to ensure the Virgin Australia Group is successful in this new world.
"In a country as big as Australia, strong competitive airlines are critical in helping restore the economy, which is why in the face of the worst crisis our industry has ever seen, a well-capitalised Virgin Australia Group with a solid and sustainable future is a great outcome for Australians and the nation's economy," Scurrah adds.
Bain Capital, a US private investment firm, clinched the bid for Virgin Australia in June, two months after the carrier entered voluntary administration in a bid to recapitalise its operations.
The carrier had been in a shaky financial state, having posted losses in the last seven financial years.