A second harsh winter storm in as many weeks is again disrupting air travel across the USA, with more than 4,800 flights cancelled as of 11:30 Pacific Time.
The storm, which stretches diagonally across the Midwest and some eastern states – from Texas in the south to the Canadian border in the north – on 3 February has all but shut down airport operations in some areas. The storm's reach is affecting about 90 million people across 13 states.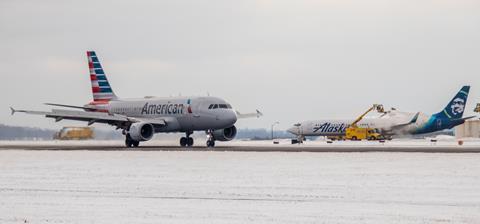 According to flight tracking website FlightAware.com, Dallas-Fort Worth International airport has seen 67% of its departing flights and 63% of its arriving flights cancelled. It closed its runways completely earlier in the day for several hours.
"Due to ongoing weather conditions, we anticipate intermediate stoppages throughout the day to treat for snow and ice," the airport says on its website.
At the central Texas city's secondary airport, Dallas Love field, the cancellation numbers are 82% of departing and 77% of arriving flights.
Airports in Austin, Columbus, St Louis, Cleveland and Cincinnati have also seen more than 60% of flights cancelled for the day.
Many major US carriers are affected, with Texas-based Southwest Airlines and American Airlines, and American's regional carrier Envoy Air, bearing the brunt of the cancellations. Together, those three airlines cancelled almost 2,300 Thursday flights so far, with another almost 500 delayed, according to FlightAware.com data.
Airlines have had to contend with inclement weather and higher numbers of ill employees due to the Omicron variant of Covid-19. While infections are now declining following an early January peak, carriers say they've had to reshuffle schedules to accommodate disruptions. Its the second winter storm in as many weeks that is throwing schedules into disarray.
Last week, Alaska Airlines said that storms and employee sickness shaved $70 million off the carrier's fourth-quarter 2021 earnings results. Ultra-low-cost carrier Allegiant Air lost $23 million due to cancellations that were caused by weather and the employee squeeze.