Numerous US airlines have reduced schedules as thousands of workers call in sick, leading to flight cancellations and delays across the nation for a fourth straight week.
Since before the end-of-year holiday travel crunch, US airlines have been contending with the rapid spread of the more-contagious Omicron variant of Covid-19. As a result, they have struggled to staff flights, leaving thousands of customers stranded. Winter storms have also played a role in throwing carriers' schedules off.
"We have about 3,000 employees who are currently positive for Covid," United Airlines chief executive Scott Kirby wrote in an 11 January note to staff. "In one day alone at Newark, nearly one-third of our workforce called out sick."
Newark Liberty International airport is one of United's major East Coast hubs.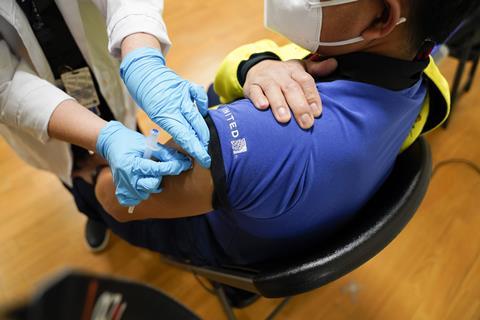 United is "reducing our near-term schedules to make sure we have the staffing and resources", Kirby adds.
Last summer, Chicago-based United became first US carrier to mandate vaccination for all staff. The company achieved a high rate of vaccination, and last month said it terminated about 200 employees who chose not to follow the company's policy.
"Since our vaccine policy went into effect, the hospitalisation rate among our employees has been 100x lower than the general population in the US," Kirby says. "Prior to our vaccine requirement, tragically, more than one United employee on average per week was dying from Covid."
Last week, Alaska Airlines said it would cancel 10% of its schedule through the end of January because of increased illness among workers. The variant "impacted our ability to operate our airline reliably," the airline wrote in a blog post on 6 January.
"We've decided to reduce departures by about 10% through the end of January. This will give us the flexibility and capacity needed to reset while continued flexible travel policies enable guests to adjust their plans accordingly," Alaska added.
Delta Air Lines, American Airlines, Southwest Airlines, and JetBlue Airways also had issues in the past weeks, forcing them to cancel or delay thousands of flights.
According to flight tracking website FlightAware.com, Southwest already cancelled 138 flights scheduled for today, and cancelled 204 flights yesterday. The airline says its situation is improving. "We are putting the wider staffing challenges and severe weather conditions of the past week and weekend further behind us", it adds.
American, Delta and JetBlue did not immediately respond to requests for comment.
According to a 10 January report from Deutsche Bank, numerous airlines have had to "reset" schedules. That said, January and February tend to be among the least-busy months for most carriers.
"This past week we observed capacity reductions for the month of January from no less than seven airlines as the industry made every effort to catch-up from inclement weather and staffing shortages in order to stabilise operations," the report says. "Delays and cancellations are starting to slowly recover, but even as of [8 January] we were still seeing double-digit cancellations from several carriers, particularly the regional airlines."
Cancellation rates are 12% for Air Wisconsin, 13% for CommutAir, 18% for GoJet and 15% for Mesa, Deutsche's report says. It notes regional carriers "typically cancel their flights to make room for their major partners' flights".