United Airlines is cancelling 50 daily flights from its East Coast hub at Newark Liberty International airport to alleviate airport congestion and minimise delays during the peak summer travel season.
The Chicago-based airline says on 23 June that the move will prepare United for a "national surge in demand" following two summers during which customers had been hesitant to travel due to Covid-19.
Newark is among three major commercial airports in the New York City metropolitan area. It is located about 10 miles (16km) west of Manhattan.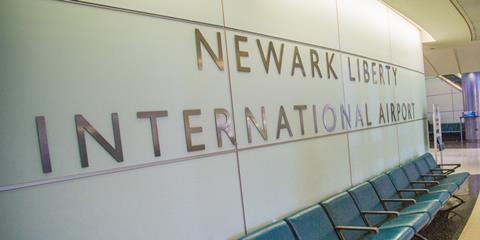 "After the last few weeks of irregular operations in Newark, caused by many factors including airport construction, we reached out to the FAA and received a waiver allowing us to temporarily adjust our schedule there for the remainder of the summer," United's chief operations officer Jon Roitman writes in a note to staff.
"Even though we have the planes, pilots, crews and staff to support our Newark schedule, this waiver will allow us to remove about 50 daily departures, which should help minimise excessive delays and improve on-time performance – not only for our customers, but for everyone flying through Newark," he adds.
Newark has been having capacity issues for some time, due to a combination of unstable summer weather and air traffic control staffing problems.
According to flight tracking website FlightAware.com, so far on 23 June 10% of flights departing Newark have been cancelled and 11% are delayed. On 22 June those figures were 17% and 25%, respectively.
United's chief executive Scott Kirby says in an interview with CNN that there are "more flights scheduled in Newark… than there is capacity at the airport, even on a perfect blue-sky day, and air traffic control is understaffed, and because of that there [are] just more flights than the airport can handle".
He adds that air traffic control issues are the "biggest bottleneck", noting that during a recent weekend air traffic control staffing was "under 50%". That resulted in only a fraction of scheduled flights able to depart, he says.
Airlines, airports and associated commercial aviation infrastructure in the USA is suffering under the surge in travel demand as the coronavirus pandemic ebbs. Airlines have advised passengers to plan more time for every part of their journey.