Some Asia-Pacific countries will require inbound Chinese passengers to test negative for Covid-19, while others are taking a wait-and-see approach.
Countries such as Japan, South Korea, and Taiwan will all impose a requirement for arriving passengers with a recent travel history to China, while India is requiring testing for passengers from several countries.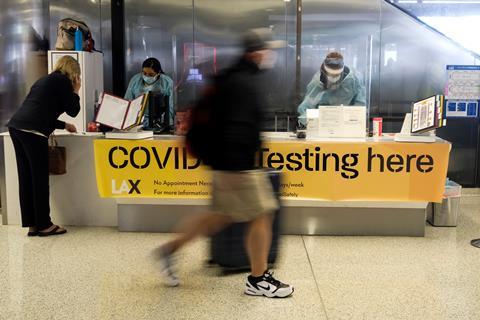 Australia and Singapore, historically major destinations for Chinese travellers, are taking a wait-and-see approach.
From 5 January, the USA will also require a negative Covid-19 test or proof of recovery from international travellers from China.
The scramble to impose – or not impose – testing requirements comes following China's abrupt abandonment of leader Xi Jinping's signature 'zero-Covid' policy, and Beijing's subsequent decision to lift all international travel restrictions from 8 January.
Governments have expressed concern about new variants emerging as the Omicron variant of Covid-19 tears through China's population, which is poorly vaccinated and lacks natural immunity to the disease. There is also great scepticism about Chinese Covid-19 statistics, which greatly downplay the country's health situation.
According to Japan's Ministry of Foreign Affairs, passengers with travel history to China within the last seven days will need to take a polymerase chain reaction (PCR) test upon arrival.
Taiwan has taken a particularly tough line, imposing PCR tests as well as seven days of self-quarantine. Taiwan's suspension of Chinese tourism remains in place.
India has gone even further, imposing testing requirements on passengers from China, as well as on arrivals from Hong Kong, Japan, Singapore, South Korea, and Thailand.
Local media reports indicate that Singapore will not impose special tests for arriving Chinese passengers.
Australia is also staying away from imposing tests for Chinese passengers.
"What we will do is take health advice, not just when it comes to China, when it comes to every country," says Prime Minister Anthony Albanese.
"There are outbreaks in various parts of the world. We will follow the health advice. Of course, what is occurring in some parts of the world as well is that people have to get tested before they get on a plane as well. So, there are various methods. We will examine the advice which is there."
The Asia-Pacific aviation sector, which has long called for harmonised Covid-19 procedures, is unlikely to welcome governments' ad hoc approach to China's reopening.
"The latest introduction of inbound travel protocols in India and Japan confirms the need to improve the coordination of travel restrictions amongst states that should strengthen their dialogue for coordinated prevention, preparedness and response planning with the involvement of the aviation industry and more effective and aligned decision making for travel regimes," says the Asian head of Airports Council International, Stefano Baronci.
His remarks followed IATA's call on China to drop Covid-19 tests for arriving passengers.
"What is needed next is to remove the need for pre-departure COVID-19 testing," says Xie Xingquan, IATA's North Asia chief.
"It is also crucial for the entire aviation value chain in China to be well prepared and adequately resourced to handle the expected surge of air travelers, so as to avoid the travel disruptions and problems seen elsewhere in the world when borders reopened."