"Disciplined" cost management and a "measured approach to bringing back capacity" helped Alaska Air Group grow revenue and turn a small profit during the fourth quarter of 2021, even while contending with a new coronavirus variant, the company reports.
Alaska, parent to Alaska Airlines and regional carrier Horizon Air, earned an $18 million profit in the final three months of 2021, compared to a $447 million loss in the same period of 2020, the company says on 27 January.
For the full-year 2021, the airline earned a $478 million profit, reversing a $1.3 billion loss in 2020. Excluding federal payroll support, Alaska would have lost $256 million.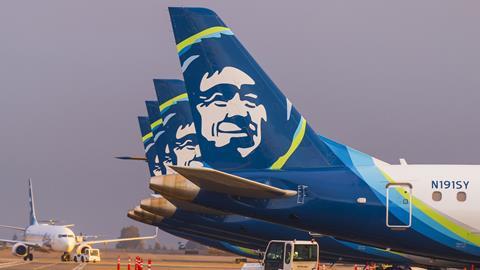 The busy end-of-year vacation period was "one of the most-challenging holiday travel periods we have ever experienced", says chief executive Ben Minicucci.
Harsh winter weather – including severe snowstorms and sub-freezing temperatures at the company's home airport in the Northwest USA – coupled with many staff members sidelined by Covid-19, had an "acute impact" on Alaska's operation.
Those factors bit $70 million from Alaska's fourth-quarter earnings.
Load factor during the fourth quarter rose to 79.4%, despite the variant's dampening impact. The airline carried 9.2 million passengers in the period, compared to 3.9 million in the same three months in 2020.
Despite challenges, Minicucci says Alaska is poised to recover as the Omicron variant wanes.
"We have laid a solid foundation for our return to 100% of our pre-Covid flying by summer 2022, and we're poised to grow from there," he says. The airline expects to "see bookings come back to life" after Omicron.
"Demand for travel from Presidents' Day and beyond remains strong, and booking trends have rebounded," he adds. This year, Presidents' Day falls on 21 February.
Alaska proactively cancelled about 10% of scheduled flights during the first quarter to stabilise its operation, Minicucci says .
The carrier expects first-quarter revenue will be 14-17% less than during the same period of 2019, while first-quarter capacity should be down 10-13% from the 2019 period. Alaska predicts its aircraft will be 71-74% full in the first quarter.