Ed Bastian, the chief executive of Delta Air Lines, and David Neeleman, the founder of airlines including Breeze Airways, Azul, JetBlue Airways and WestJet, took the top honours at the 2021 Airline Strategy Awards on 27 September.
The awards – which have been held since 2002 – recognise individuals, airlines and companies supporting air transport that have demonstrated dynamic leadership and clear vision, this year with a particular focus on outstanding performance during the Covid-19 pandemic.
The other winners on the night were Copa Airlines chief executive Pedro Heilbron, Wizz Air chief executive Jozsef Varadi, Ethiopian Airlines chief executive Tewolde GebreMariam, and the leadership teams at AirAsia and Alaska Airlines.
Bastian received the 2021 Executive Leadership Award to recognise his strong guidance of the US major during the Covid-19 crisis. Judges described his leadership as the "complete package", with many areas of industry-leading highlights, including first-class communication skills and a "very empathetic and human-centred approach to his staff".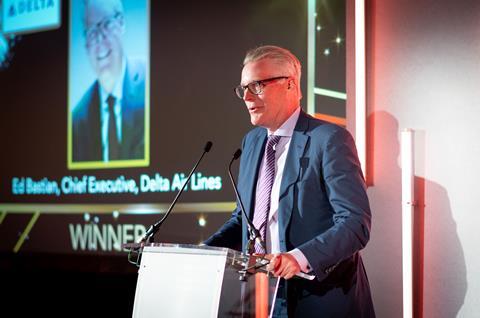 All judges agreed that Delta under Bastian has achieved the right balance between taking important actions to ensure the airline's financial survival and remaining consistent with a customer- and employee-centric culture.
"Bastian's skillful leadership before and during the Covid-19 crisis has ensured Delta is well positioned to continue its journey as a world-class airline, with an enviable reputation among its staff, customers and the industry," said Graham Dunn, head of content at FlightGlobal and host of the Airline Strategy Awards.
Neeleman received the prestigious Airline Business Award to recognise three decades as an industry innovator. During that time, his unique talent for understanding customer needs has been reflected in the launches of successful carriers such as Azul, JetBlue Airways and WestJet. But Neeleman's continuing story and impact on the industry are equally as important. Indeed, his launch of low-cost operator Breeze Airways in late May – despite the devastating impact of the pandemic – again marks him out as one of the sector's great leaders and makes him as relevant to the industry's future today as he was 30 years ago.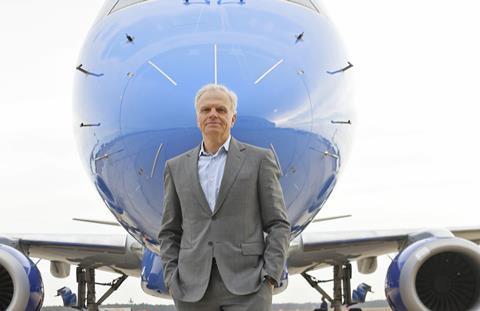 "Neeleman's various successful airline projects stand out because of his clean-sheet approach and open mind regarding fundamental strategic directions. He continues to be a force for positive change and innovation in the industry," said Dunn.
The full list of 2021 winners, by category, were:
Executive Leadership: Ed Bastian, chief executive, Delta Air Lines
The Airline Business Award: David Neeleman
Sector Leadership: Pedro Heilbron, chief executive, Copa Airlines
Low-cost Leadership: Jozsef Varadi, chief executive, Wizz Air
Air-cargo Leadership: Tewolde GebreMariam, chief executive, Ethiopian Airlines
Business Innovation: AirAsia
Corporate Social Responsibility: Alaska Airlines
The Airline Strategy Awards event is organised by FlightGlobal in partnership with the civil aviation practice of Korn Ferry, the largest human-capital solutions provider in the world. Winners are selected by an independent panel of industry experts. FlightGlobal's Airline Business magazine also presents its own award, recognising an individual making a lasting strategic contribution to the industry.
Key sponsors of the awards include CFM International, Collins Aerospace, Cirium, Pratt & Whitney, SmartKargo, Tampa International Airport, Volantio and Panasonic.