Bombardier will focus exclusively on business aviation following an agreement to sell its rail division to French industrial giant Alstom.
The deal, announced on 17 February, is worth close to $4.5 billion for Bombardier and will help slash the company's outstanding $9 billion debt.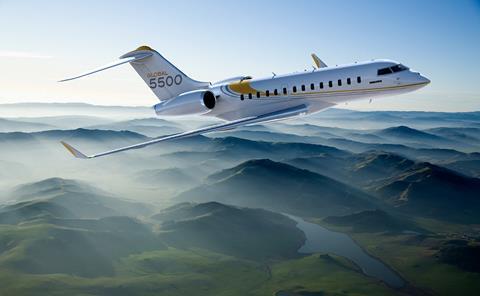 Alain Bellemare, Bombardier chief executive describes the move as "an exciting new chapter".
"Going forward, we will focus all our capital, energy and resources on accelerating growth and driving margin expansion in our market-leading $7 billion business aircraft franchise."
This covers the Global, Challenger and Learjet business jet families, along with a lucrative and expanding aftermarket division that supports some 4,800 aircraft worldwide.
"With a stronger balance sheet after the completion of this transaction, an industry-leading portfolio of products, a strong backlog, and a rapidly growing aftermarket business, we will compete in this market from a position of strength," adds Bellemare
During a 13 February full-year earnings call, Bellemare signalled that the company was considering selling the rail business to pay off some of its debt, and favoured retaining the business aviation unit, despite reports that it was in talks to offload the division to rival business jet manufacturer Textron Aviation.
"Our future in aerospace is with our industry-leading business jet franchise and we see tremendous opportunities," Bellemare said.
Bombardier has sold, or is in the process of selling, all of its commercial aviation interests over the last couple of years, along with the CL-415 water bomber programme, to raise the cash to pay off its debts. Much of this was attributable to the crippling development costs of the CSeries – renamed the A220 after Airbus acquired a majority stake in the programme in 2018.
On 12 February, Bombardier completed its CSeries exit with the sale to Airbus of its remaining 31% stake in the A220.
Bombardier says its business aviation unit has "a clear path for growth, margin expansion and solid cash generation" with the expected strong performance to be driven by the large-cabin segment, in particular the flagship Global 7500, and recently certificated Global 6500 and 5500.
"Underlying this growth, is continued global economic growth, the further expansion of charter and fractional ownership business models, and a replacement cycle supported by newer and more efficient aircraft," says Bombardier.
The airframer recorded a five-unit hike in deliveries last year to 142 aircraft – 54 Globals, 76 Challengers and 12 Learjets.
Bellemare says a "lag" in aircraft completions pushed around six Global 7500 shipments into 2020. The issue is now being addressed, and Bombardier is planning output of between 35 to 40 of the 7,700nm (14,245km)-range jets in 2020 - around a quarter of its projected output for the year of 157 aircraft.
Bombardier describes its $14.4 billion aircraft backlog, as "the largest in the industry".