Berlin has finalised a contract to equip its navy with five Boeing P-8A Poseidon maritime patrol aircraft, with deliveries to commence in 2024 under the Foreign Military Sales programme deal.
Germany in June 2021 signed a letter of offer and acceptance related to the roughly €1.1 billion ($1.3 billion) acquisition, which will replace its current navy fleet of Lockheed P-3C Orions.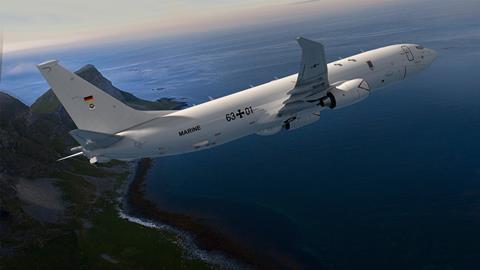 Confirming the order's completion on 27 September, the US Department of Defense said work on the Lot 12 production aircraft should be completed by February 2025. It detailed the new "fixed-price-incentive-fee" project phase – placed via the US Naval Air Systems Command – as worth more than $756 million.
"The P-8 will ensure the German navy's ability to perform long-range maritime surveillance missions and will play a pivotal role in the region by leveraging existing infrastructure in Europe and full interoperability with NATO's most advanced assets," says Michael Hostetter, vice-president, Boeing Defense, Space & Security, Germany.
"Together with the German navy, the Federal ministry of defence and local industry, we will ensure maximum operational availability that will allow the German navy to meet the full range of its maritime challenges," says Dr Michael Haidinger, president, Boeing Germany, Central & Eastern Europe, Benelux and Nordics.
The airframer earlier this year signed agreements with ESG Elektroniksystem-und Logistik and Lufthansa Technik to "collaborate in systems integration, training and sustainment work".
Boeing says that once operational, the P-8As "will significantly advance Germany's anti-submarine warfare, anti-surface warfare, intelligence, surveillance and reconnaissance and search and rescue mission capabilities".
Germany will become the third European nation to field the Poseidon, following the air forces of the UK and Norway. Other current operators of the 737NG-based type are the Royal Australian Air Force and the Indian and US navies, while New Zealand and South Korea have also ordered examples.