The Royal Netherlands Air Force (RNLAF) has taken delivery of its first Boeing CH-47F Chinook produced in the manufacturer's latest standard, with its Defence Helicopter Command to eventually operate 20 of the tandem-rotor transports.
"The RNLAF made it clear to us that they need the advanced, proven capability of the CH-47F now," says Andy Builta, the manufacturer's H-47 programme manager.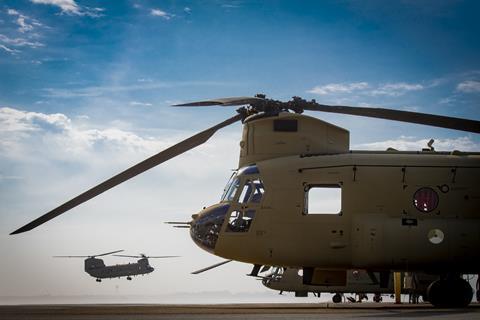 "I want to thank our phenomenal team for working hard during a difficult situation to safely deliver these aircraft," he adds. "This is a reminder to all of us of how important Chinooks are to our customers."
Boeing is to temporarily suspend production activities at its Philadelphia, Pennsylvania, facilities - the location of the CH-47's final assembly line - for two weeks after the end of the working day on 3 April, due to measures adopted during the coronavirus pandemic.
"This action is intended to ensure the well-being of employees, their families and local communities, and will include an orderly shutdown consistent with requirements of US and global defence customers," the company says.
Boeing will complete new-build CH-47F deliveries to the Netherlands during 2021.
Cirium fleets data shows that the nation currently uses 17 D- and earlier-standard F-model Chinooks, with a total of 14 new examples ordered.