Honeywell has signed an agreement with the US Army to demonstrate a more powerful variant of its T55 turboshaft on the Boeing CH-47F Chinook heavy-lift helicopter.
The T55-GA-714C engine generates 6,000hp (4,470kW), a 25% increase in power compared to the current T55 that is used on the twined-engined CH-47, Honeywell says. The engine also burns 10% less fuel.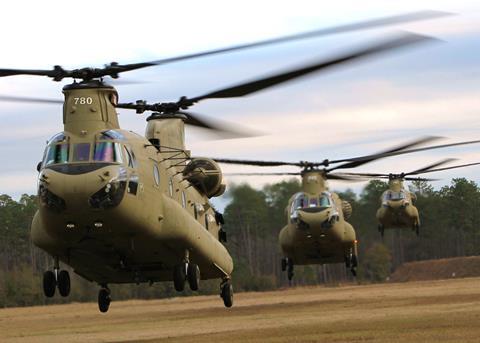 The company claims the new variant of the T55 would also be easier to maintain and have lower operating costs as a result of modifications.
Honeywell's test effort comes after the US Army launched another effort with GE Aviation in 2019 to demonstrate its T408 turboshaft on the Chinook. The T408 was developed for the US Marine Corps' Sikorsky CH-53K heavy-lift helicopter and produces 7,500hp – 25% more than the new T55 offered by Honeywell.
For its part, Honeywell is claiming that the upgraded T55 would be easier to install.
"Because the engine is based closely on the T55 version currently in use, almost no airframe changes are required – the same intake, exhaust and engine airframe mounts are used," the company says. "This provides the army and National Guard with a major engine improvement without the need to retrain their maintenance and operational staff."
Honeywell plans to offer the US Army the option to buy a new-build variant of the T55-GA-714C, or to retrofit existing T55 engines with the upgrades.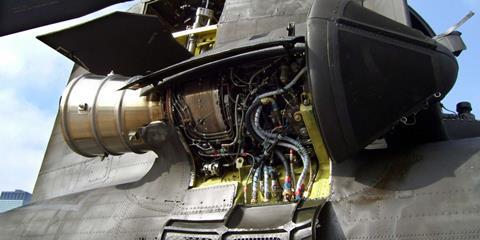 As part of the Cooperation Research and Development Agreement with the US Army, the company plans to flight demonstrate the T55 on a CH-47F at Fort Eustis in Newport News, Virginia. The tests are to be supervised by the US Army Combat Capabilities Development Command Aviation & Missile Center.
The first T55 was delivered to the US Army in 1961 for installation on a CH-47A by original manufacturer Lycoming. That engine generated 2,050hp.