Boeing could start flight tests of a US Army NCH-47D Chinook with the more powerful GE Aviation T408-GE-400 turboshaft engine within a couple of months, if not several weeks.
The company is currently conducting ground tests with the T408 engines installed on the CH-47, says Randy Rotte, director of global sales and marketing for Future Vertical Lift, cargo, and utility helicopter programmes at Boeing.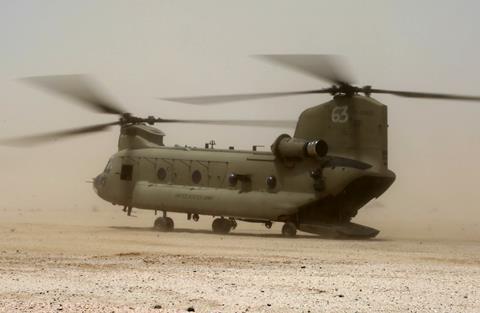 "We have done several ground runs," he says. "We haven't gotten quite to 100% rotor RPM yet. As you might imagine, when you put a new engine on an aircraft, it's amazing the amount of work that goes into that."
Boeing has been developing new engine start procedures, as well as integrating a fire suppression system and electrical wiring, among other modifications, to the T408 and CH-47, says Rotte.
Testing of the T408 is part of a research and development agreement between Boeing, GE and the US Army that was signed in 2019.
The CH-47 is currently powered by the Honeywell T55 turboshaft. In June, Honeywell also announced that it had signed an agreement with the US Army to demonstrate a more powerful variant of its T55 on the CH-47. That engine, the T55-GA-714C, generates 6,000hp (4,470kW), a 25% increase in power compared to the current T55. Honeywell also claims it burns less fuel and would be easy to install, requiring no airframe changes.
For its part, GE's T408 produces 7,500hp, which is 25% more than the new T55 offered by Honeywell. The T408 was developed for the US Marine Corps' Sikorsky CH-53K heavy-lift helicopter.
The CH-53K is competing with the CH-47F in heavy-lift helicopter acquisition programmes for Germany and Israel. Boeing says the T408 engine upgrade for the CH-47F will not be ready before those two international customers make a purchasing decision, however.
Update: This article has been updated to clarify that the T408 flight tests are being conducted on an older NCH-47D helicopter, not the CH-47F.