Despite the industry upheaval and challenges caused by the coronavirus outbreak, aviation and aerospace companies should not lose sight of diversity and inclusion.
Jacqui Sutton, co-chair of the Women in Aviation and Aerospace Charter - which organised a wide-ranging panel discussion as part of FIA Connect - says gender diversity and inclusion is more important than ever as the industry begins to recover from the pandemic.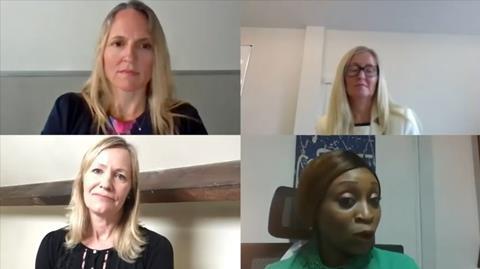 "Diverse, forward-looking and collaborative workforces, we believe, will be integral in helping organisations to recover and face the future with confidence," says Sutton, who is also chief customer officer, civil aerospace at Rolls-Royce.
She notes a recent McKinsey study which found that companies in the top quartile for gender diversity were 21% more likely to outperform in profitability.
"[The] charter commits organisations supporting the progression of women into senior roles in the aviation and aerospace sector by focusing on specifically the mid-tier level and the executive pipeline," she says.
The panellists — comprising senior female executives from aerospace companies Safran Seat GB and Meggitt, as well as airline trade body IATA — noted that the pandemic has made it hard for companies to put diversity at the top of their agenda.
Victoria Foy, chief executive officer of Safran Seat GB, and Martine Gagne, chief technology officer at Meggitt, both note that health and safety of all their employees has been a key priority during the outbreak.
Foy notes, however, that Safran Seat was "well-placed" before the pandemic with diversity and inclusion practices already implemented.
Foy adds that the company has surveyed some of its female employees who have had to work from home during the outbreak.
"We wanted to understand from them, if their needs and their concerns have changed as a direct consequence of Covid-19," she adds.
Female employees surveyed said that while they were juggling the dual roles of caring for the household and working, "[many] told us was that [they] actually quite enjoy the flexibility…working from home has given to them", notes Foy.
Fellow panellist Adefunke Adeyemi, IATA's regional director of advocacy and strategic relations for Africa, points towards IATA's 25by2025 gender diversity initiative as a sign of "moving the needle" in gender representation at the executive level.
IATA launched 25by2025 in 2019, to improve female representation within senior leadership teams across the industry. More specifically, it is encouraging its airline members to sign up to a commitment to increase the number of women in senior leadership positions and under-represented areas by 25% – or to a minimum of 25% – by 2025.
"[This] is not a sort of, you know, 'playing the gender card' kind of metric for us. Not at all. It's actually designed to address … the two sorts of problems: of unconscious bias … as well as the tendency of women themselves not to lean in," Adeyemi says.
On the goal of hitting 25% representation, Adeyemi says gender diversity should not be so much about meeting numbers than the long-term goals.
"[It is] not because…we have a figure, and we want to meet it. No, it's because if it's not done this way, the needle wouldn't move. It hasn't moved….by hoping it moves," she adds.
To this end, Adeyemi says IATA is also doing its part in gender diversity. "We are looking at ensuring that whenever there are promotions within the organisation, [that] the women with merit who meet the criteria will be considered … and in some cases will actually be encouraged if they haven't applied for those positions as well."