China plans to sanction Raytheon Technologies and Lockheed Martin for the sale of Patriot missile system upgrade services to Taiwan.
Beijing considers Taiwan, a democratic country, to be a rebellious province that is part of its territory and has worked to isolate the nation by attacking those who support it. Taiwan has been an independent country since 1949 when the Chinese Nationalist Party fled mainland China to the island after losing a civil war to the Chinese Communist Party.
The sanctions are in response to a recently approved possible US Foreign Military Sales deal for sustainment and upgrade services for Taiwan's Patriot PAC-3 surface-to-air missile systems. The US Department of State told the US Congress on 7 February that it had approved the possible sale of up to $100 million in services for the anti-aircraft weapon system.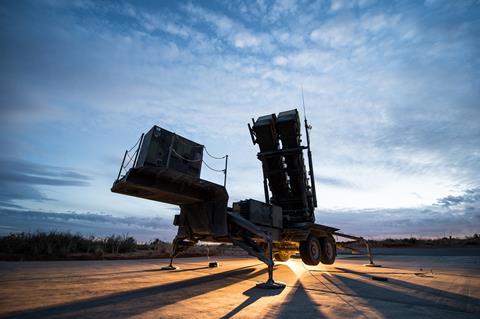 "The US arms sales to the Taiwan region of China seriously violate the one-China principle and the stipulations of the three China-US joint communiques, especially the 17 August Communique, gravely undermine China's sovereignty and security interests, and severely harm China-US relations and peace and stability across the Taiwan Strait," China's foreign ministry spokesman Wang Wenbin said on 21 February. "China firmly opposes and strongly condemns this."
In response, China will use its Anti-Foreign Sanctions Law on Raytheon and Lockheed, he says. Wenbin did not say how the two US aerospace companies would be sanctioned.
Raytheon Missiles & Defense and Lockheed jointly make the Patriot missile system.
The "One-China principle" is the belief by Beijing that there is a single China and that the Republic of China, as Taiwan is formally known, is part of it. The Three Communiques are a series of diplomatic agreements in the 1970s and 1980s between the USA and the People's Republic of China regarding relations with Taiwan. The meaning and commitments within the agreements are disputed between Washington and Beijing.
China has long threatened to invade and annex Taiwan. The USA has supported Taipei with arms sales. Achieving air superiority would be necessary for an invasion of Taiwan to succeed and anti-aircraft weapons like the Patriot missile system would make that more difficult.
Lockheed generates almost all of its revenue from military contracts and does no significant civil aerospace business in China, meaning that sanctions on it by the Chinese government would be symbolic.
However, Raytheon Technologies, parent company of Pratt & Whitney and Collins Aerospace, does significant amounts of business in China. For example, P&W supplies the Airbus A320neo narrowbody with its GTF engines and provides MRO services in China to support the commercial airliner.
It is not clear if China would be sanctioning Raytheon Technologies in its entirety or just its defence business units. Raytheon did not immediately respond to a request for comment on how the sanctions might impact its business.