South Africa's Paramount Aerospace Industries has announced the start of customer deliveries with its Mwari light aircraft, optimised for tasks including intelligence, surveillance and reconnaissance, and precision strike.
Revealing the development on 21 September, the Paramount Group subsidiary said it has "secured customers and orders from multiple air forces", with this business totalling nine of the aircraft.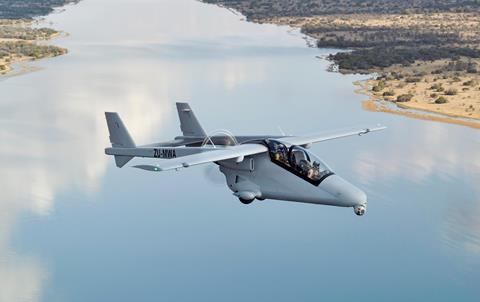 "The orders for nine new Mwaris represent an important milestone in its commercial success and have resulted in full levels of production at Paramount Group's state-of-the-art aircraft factory" at Wonderboom near Pretoria, the company says. "Deliveries to an undisclosed customer are underway," it adds.
"This is a proud moment for Paramount and our continent's aerospace industry," says Paramount Group founder Ivor Ichikowitz. "The development and deployment of Mwari underscores the strategic importance of a world-class, indigenous African aerospace industry, one that can quickly and collaboratively address the increasing security threats, conflicts and insurgencies which Africa presently faces."
"Mwari is a game-changer for air forces," he adds. "It is purposefully designed for the kind of asymmetrical warfare that modern military forces across the world are today being asked to conduct."
Featuring an Interchangeable Mission Systems Bay capable of accommodating "near-endless sensor and payload options", the Mwari platform is "infinitely reconfigurable", the company claims.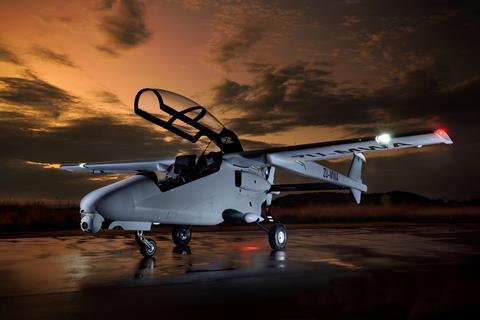 "Additional sensors on mounting points around the aircraft are integrated into the Mwari mission system, ensuring 360˚ of electronic coverage and superior situational awareness throughout the flight envelope, no matter the theatre, whether day or night," says Paramount Aerospace Industries chief executive Mike Levy. "Mwari's distinct pusher-prop configuration and stadium seating affords its pilots unparalleled visibility," he adds.
The short take-off and landing Mwari has a maximum cruise speed of 250kt (462km/h), a mission range of up to 550nm (1,020km) and a maximum 6.5h endurance, Paramount says. The type's operating ceiling is 31,000ft.
Previously referred to as the AHRLAC, the Mwari design was first revealed by Paramount and its then-partner Aerosud in 2011. First flight of the single-engined type took place in August 2014.

Craig Hoyle joined Flight International in 2003, and has edited the now monthly title since 2015. He has reported on the UK, European and international military aviation sector for more than 25 years, and produces our annual World Air Forces directory.
View full Profile