GE Aviation's commercial engine sales and orders tumbled in the first quarter of 2020, as did revenue and profit, as the coronavirus took a bite from the Ohio company's business.
During the first quarter, the engine maker also received cancellations for 200 CFM International Leap-1B turbofans, which power the Boeing 737 Max. Boeing's customers have cancelled orders for hundreds of 737 Max in recent months, reflecting a broad industry downturn that has hammered GE's peers and airline customers.
GE, which co-owns CFM with Safran Aircraft Engines, still turned a profit of $1.0 billion, down 39% year-on-year. First-quarter revenue slipped 13% from the same period last year to $6.9 billion, GE reports.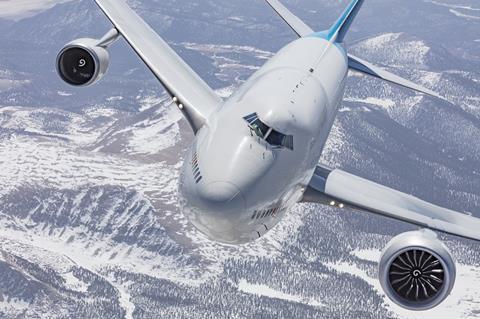 "Of all of our industrial segments, this business is feeling the impact of the pandemic most severely," General Electric chief executive Larry Culp says of GE Aviation on 29 April.
GE Aviation received orders valued at $7.4 billion in the quarter, down 14% year-on-year, with orders for new equipment such as engines sliding 31% and orders for services declining about 5%, the company reports.
It sold 472 commercial engines in the first quarter, down 37% from 751 sales in the same period of 2019. First-quarter sales of Leap turbofans, which also power Airbus A320neo-family aircraft, slipped 36% year-on-year to 272 engines.
GE received 145 commercial engine orders in the first quarter, down 82% from 799 orders in the first quarter last year. It landed only six Leap orders, down from 636 one year earlier.
The engine maker has already responded to the coronavirus pandemic and subsequent aerospace downturn by slashing 10% of its US staff and furloughing half its US MRO and engine manufacturing workforce.
"In the near term, we are right-sizing production capacity and actively managing the supply base," says Culp.