It will cost Boeing $551 million to redesign the boom camera on the KC-46A Pegasus in-flight refuelling tanker.
In total, the aerospace company took a pre-tax charge of $827 million for the KC-46A tanker in the first quarter of 2020, it says in an earnings call on 29 April. In addition to the boom camera redesign, the programme lost money because of "productivity inefficiencies" and coronavirus-caused shutdowns of Boeing's Puget Sound factories where the KC-46A is made, the company says.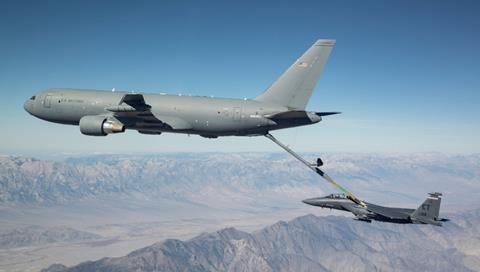 Total losses on the KC-46A programme have now risen to about $4.6 billion.
The tanker charge caused Boeing's Defense, Space & Security business to lose $191 million from operations in the first quarter of 2020. In the first quarter of 2019, the company earned $852 million from operations.
Boeing signed an agreement with the US Air Force (USAF) in April to develop and install a new boom camera, called the Remote Vision System (RVS), on the KC-46A. As part of that agreement, the service decided to release $882 million in payments withheld for a variety of problems with the KC-46A in order to shore up Boeing's cash flow.
The KC-46A programme has been plagued by problems that have delayed delivery of aircraft and hurt its operational readiness. Issues have included foreign object debris found inside the tanker's airframe, malfunctioning cargo locks and leaky fuel tanks, as well as problems with images produced by the RVS warping or washing out on boom operator video screens.
The USAF has withheld 20% of payments on examples of the KC-46A that Boeing delivered to the service because those aircraft do not meet agreed specifications. The programme has three category-one deficiencies, such as the issue with the RVS, and a number of other smaller problems.
Category-one deficiencies are problems "which may cause death or severe injury; may cause loss or major damage to a weapon system; critically restricts the combat readiness capabilities of the using organisation; or results in a production line stoppage", the USAF has said.
With losses on the KC-46A programme already piled high, Boeing is hoping to make up the deficit with sales to foreign militaries. International customers have been slow to buy the tanker, but Boeing notched an important win in March when Israel was approved to buy eight examples of the aircraft for an estimated $2.4 billion. Prior to that only Japan had agreed to buy the KC-46A, with just two aircraft on contract.