GE Aviation's sales tumbled by nearly half in the second quarter of 2020, as the industry downturn sapped commercial aircraft engine demand and erased profits.
The downturn has likewise affected leasing arm GECAS, which is facing widespread requests from airlines for deferrals of aircraft deliveries, GE says.
The US manufacturer released second-quarter results on 29 July that align with those of prime competitor Pratt & Whitney and other aerospace suppliers suffering steep losses due to coronavirus.
Ohio-based GE Aviation lost $680 million in the second quarter, reversing a $1.4 billion profit in the same period of 2019.
The engine maker had posted a profit of $1 billion in the first quarter, which ended just as the virus outbreak became a global pandemic.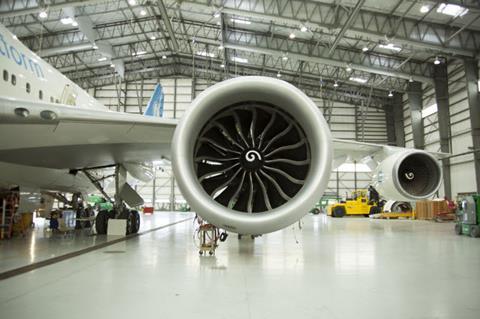 GE Aviation's second-quarter revenue sank 44% year on year, to $4.4 billion. Revenue from equipment sales tumbled 33% year on year, and services revenue declined by about half.
In the three months to 30 June, GE recorded sales of 178 Leap-series powerplants it produces in partnership with Safran as part of the CFM International joint venture, down 59% on 437 Leap sales in the same period a year earlier. Leap-1As are one of two engine options for Airbus A320neo-family jets, and Leap-1Bs are the only engine available for Boeing's 737 Max.
The decline in services revenue reflects a reduction in volume and "adjustments to [long-term service agreements] related to the impact of Covid-19", the company says.
To counter the downturn, GE Aviation is "on track" to save some $3 billion in cash this year. That includes $1 billion in cost cuts and other "cash actions" intended to reduce outflows by $2 billion, GE says.
The engine maker cut some 5,400 staff from its workforce in the second quarter, after announcing in May it will eliminate some 13,000 workers, or 25% of its global workforce.
In addition, the coronavirus downturn is also forcing GECAS to restructure its order book in response to widespread requests for aircraft delivery deferrals.
About 80% of GECAS's customers have requested "short-term deferrals", of which GECAS has approved 60%, GE says.
GECAS has also cancelled 73 737 Max orders in recent months.
GE Aviation's second-quarter performance closely mirrors that of its closest US-based competitor Pratt & Whitney.
Hartford-based P&W's second-quarter shipments of large commercial aircraft engines slid 47% year on year, to 92, and it lost $457 million in the period, on sales down 32% year on year, to $3.5 billion.
Story corrected on 31 July to note that Leap-1Bs, not Leap-A1s, power 737 Max.