GE Aviation in 2021 will kick off a GE9X test programme intended to validate the powerplant's durability when operating in sandy, dusty conditions.
The tests will let GE evaluate the 105,000lb-thrust (467kN) GE9X's design and technologies intended to help the powerplant tolerate such extreme operations.
"One of our biggest focus points has been on sand ingestion," says GE9X programme leader Karl Sheldon. "The test next year is where we purposefully allow the engine to ingest sand."
"The intent of the test is to validate the technology that we put in there, in a full-up operating condition," he adds.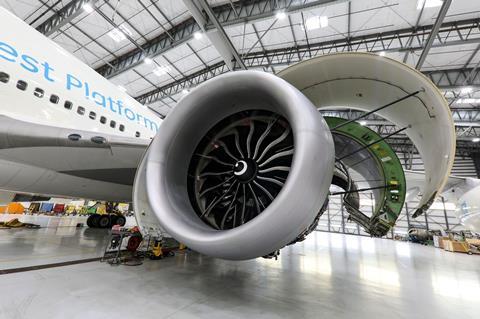 Just days ago, on 28 September, GE received Federal Aviation Administration Type 33 airworthiness certification for the GE9X, which powers Boeing's 777X. The regulatory clearance followed a certification project launched in 2017.
Boeing expects to deliver its first 777X– a 777-9 variant – in 2022.
Sheldon provides few details about technologies intended to make the GE9X more durable to sand. However, he says the technologies involve "how we manage secondary" air flow. The flow design ensures "dust and sand particles do not clog up the secondary-flow passages".
GE has also equipped the GE9X with durable ceramic-matrix composite (CMC) materials. The engine has CMCs on its inner and outer combustor liners, and the stage-one and stage-two nozzles and stage-one shroud in its high-pressure turbine.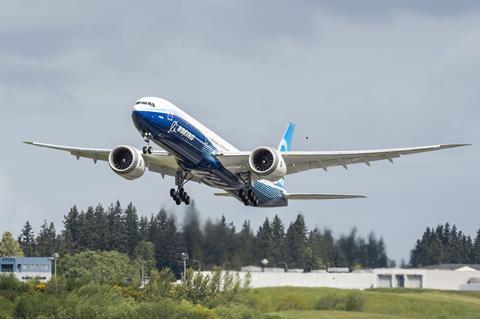 Meanwhile, GE is working with Boeing to achieve GE9X "extended operations" (ETOPS) certification – an FAA Part 25 aircraft airworthiness standard. That effort will involve logging another 2,000 cycles on an engine that has already logged 1,000, for 3,000 cycles total.
Each cycle lasts less than 1h and involves spooling the engine up and bringing it back to idle.
GE will perform ETOPS certification work using the same engine it recently ran through initial maintenance inspection (IMI) tests — part of the Part 33 certification.
The IMI tests, which GE completed in early September, involved creating an "unbalance" in the rotor.
"We purposefully put weights in the rotor that drive it to be unbalanced," Sheldon says. The team then ran the powerplant through 1,000 cycles.