GE Aviation saw third-quarter operating profit plunge by 79% year on year, to $356 million, amid tumbling demand for aircraft engines and aftermarket services.
The company attributes the results to factors including "lower volume on commercial spare-part and commercial spare-engine shipments, and decreased shop visits" tied to engine-service agreements.
GE Aviation's third-quarter operating profit came on revenue of $4.9 billion, down 39% year on year. That included commercial engine and service revenue of $2.7 billion, down 55% against the same period a year earlier. Defence revenue climbed 7% year on year in the third quarter to $1.1 billion, with revenue from systems and other work remaining nearly flat at $1.1 billion.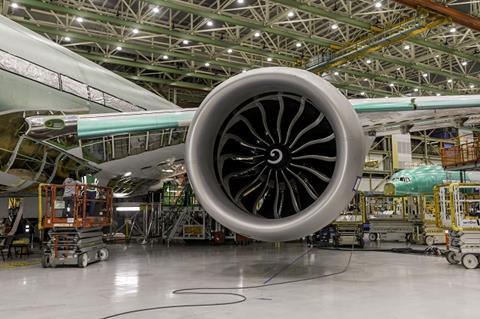 GE notes that airlines have parked 26% of the global fleet of aircraft powered by GE and CFM International engines. GE part-owns CFM with Safran Aircraft Engines. The number of flights operated by those aircraft is down about 40% from pre-pandemic levels.
Since the start of the year, airlines have cancelled orders for about 1,100 Leap-1B engines and 22 GE9X powerplants, GE says. Leap-1Bs exclusively equip the Boeing 737 Max, while the GE9X powers the 777X, which remains in flight testing.
During the three months to end-September, GE Aviation sold 329 commercial aircraft engines, including 172 Leap turbofans, down on respective figures of 714 and 455 in the same period last year. The company reports engines as sold when it ships them to customers.
GE Aviation received new orders in the third quarter for 88 new engines, down from 297 engines in the same period last year.
GE has responded to the downturn by reducing its aviation-related workforce by 3,500 employees in the third quarter. It is also working to cut $1 billion in costs and to conserve another $2 billion in cash.