The Federal Aviation Administration has certificated GE Aviation's 105,000lb-thrust (467kN) GE9X turbofan, a milestone coming as Boeing continues working toward achieving certification for its GE9X-powered 777-9.
The FAA's airworthiness certification follows a notable GE9X development delay announced at the 2019 Paris air show and comes as Boeing works to begin 777-9 deliveries in 2022.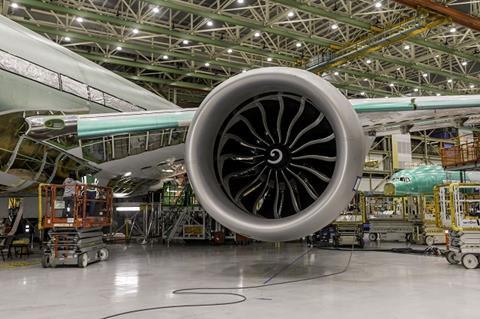 GE completed the GE9X certification programme using eight test engines that logged nearly 5,000h of operations and 8,000 engine cycles, the Ohio-based aircraft engine maker says on 28 September.
"GE's focus remains working with Boeing to complete the 777X flight-test programme and entry into service," GE says. "Eight GE9X test engines and two test spares have been produced and delivered to Seattle for Boeing's four 777X test airplanes."
GE continues working to achieve FAA GE9X "extended operations" (ETOPS) approval – an effort expected to involve 3,000 GE9X ground-test cycles. The company is also "conducting maturation testing to help GE engineers prepare to support the engine in service", it adds.
GE says "several GE9X production engines have been assembled, and GE Aviation is in the process of completing factory acceptance tests".
Certification of the GE9X comes as Boeing progresses with the delayed 777-9 certification programme. Boeing completed its maiden 777-9 flight on 25 January, following by first flight of the second test jet on 30 April and the maiden flight of the third test 777-9 on 3 August.
The engine issue disclosed by GE in 2019 involved durability of stator vanes at the front end of the GE9X's high-pressure compressor. The vanes sit between rotor blades and pivot on a bearing to keep the engine running at optimum performance. The durability problem was causing exhaust-gas temperatures to be outside expected ranges, resulting in premature component deterioration, GE has said.
The issue forced GE to recall from Boeing four GE9X engines used for flight tests, though the engine maker quickly addressed the problem and shipped engines back to Boeing.