Rolls-Royce is to continue ground-test activities on the power generation system it was developing as its contribution to the Airbus E-Fan X, despite the programme's cancellation before the hybrid-electric demonstrator ever flew.
Airbus and R-R on 24 April announced that they had pulled the plug on the project in order to "refocus" their efforts on bolder decarbonisation strategies.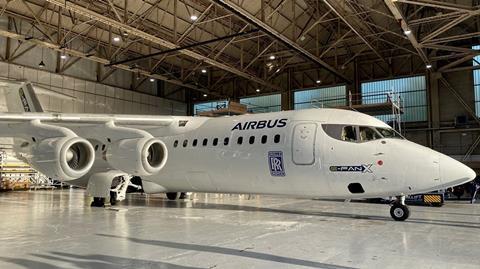 Under the E-Fan X design, the partners intended to replace one of a BAE Systems Avro RJ100's turbofan engines with an electric propulsion unit powered by an AE2100 turboshaft engine driving a 2MW generator mounted in the aft fuselage.
Modification activities were under way on the aircraft (G-WEFX) at Cranfield airport in the UK to support a first flight in 2021.
Despite the axing of the project, R-R plans to continue some development work as part of its drive towards more sustainable aviation.
"Although our programme with Airbus concludes, we are planning that our power-generation system ground testing will complete, allowing us to demonstrate the technology and capture all the lessons," says R-R chief technology officer Paul Stein.
This will see the company integrate the generator, currently being tested at its site in Trondheim, Norway, with power-control and thermal-management systems developed by R-R's units in Derby and Indianapolis, respectively.
"We will be going through a short period of re-planning due to this decision to make sure we properly capture all the lessons, knowledge and associated intellectual property," he says.
Stein stresses that the decision to end the E-Fan X research was a joint one, adding: "As with all such leading-edge programmes, we constantly evaluate the best way forward and it has become clear to both parties that the actual requirement to carry out a test flight with all the elements integrated is not critical at this time."
Any future hybrid-electric aircraft could still employ the systems developed for E-Fan X, says Stein, with a development effort to include "a comprehensive flight-test programme to ensure that all industry safety requirements are met."