Embraer has delivered a third KC-390 transport/tanker to the Brazilian air force.
Assigned to the First Troop Transport Group, the twinjet is expected to soon join the service's lead examples in performing logistics flights in support of efforts to counter the coronavirus pandemic.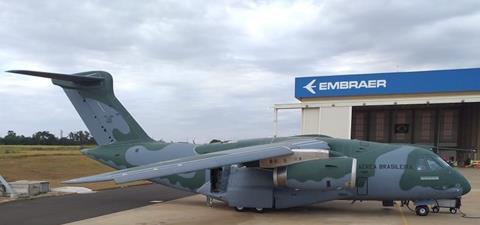 Air force commander Lieutenant-Brigadier Antonio Carlos Moretti Bermudez describes the type's employment during the current crisis as "an important initiative for Brazilian society".
Embraer says the service's first two transports have been used to move supplies such as large quantities of personal protective equipment, and larger items including an ambulance, since late March. Pointing to the type's "high dispatch reliability", the company cites one mission during which a KC-390 flew from Sao Paulo to Manaus – a distance of 1,450nm (2,690km) – in less than 4h.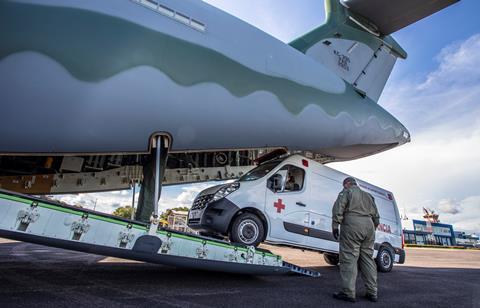 "The C-390 Millennium has been successfully used in humanitarian missions to combat Covid-19, demonstrating, in practice, its operational abilities and its importance for the country," says Embraer Defense & Security chief executive Jackson Schneider.
Cirium fleets data records the newly delivered aircraft as having the tail number 2855.
Brazil will receive a further 25 KC-390s, with first export buyer Portugal also to take five.