The Portuguese air force's first Embraer KC-390 passed its preliminary design review in early July, one year after the country became the type's first export customer.
Lisbon has ordered five examples of the military transport. Embraer is currently assembling the first aircraft for the country, the manufacturer said on 5 August. Previously, the company has said it plans to deliver the first aircraft in February 2023, with the other four to follow at a rate of one per year until February 2027.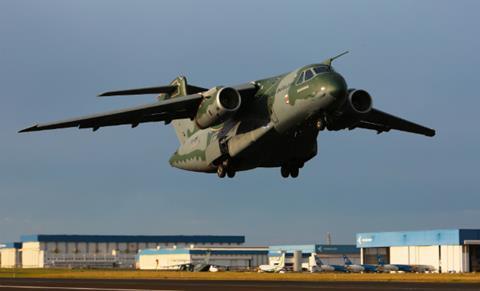 The only other firm customer for the KC-390 is the Brazilian air force, which has ordered 28 units. The first KC-390 was delivered to the Brazilian air force in September 2019, with a second transferred last December. The service's third example was handed over in June.
Currently, four more of Brazil's ordered aircraft are in assembly, one of which is scheduled to be delivered before the end of 2020.
In addition to firm orders for Portugal and Brazil, Embraer has letters of intent for an additional 33 aircraft. Colombia has expressed interest in 12 aircraft, Argentina and Chile six each, the Czech Republic two, and aviation services company SkyTech six. In July, Embraer told FlightGlobal that none of the KC-390's letters of intent had been converted into a sale.