Embraer Defense & Security has seen its share of challenges and successes during 2020, and the unit's chief executive Jackson Schneider is optimistic about growth in the coming decade.
As with all aerospace firms, Embraer has been affected by the coronavirus pandemic. Adding to this, the company also saw the collapse of joint venture plans with Boeing in April. For some years, Embraer had hoped to leverage the sales network of the US giant to sell its KC-390 tactical transport and tanker internationally.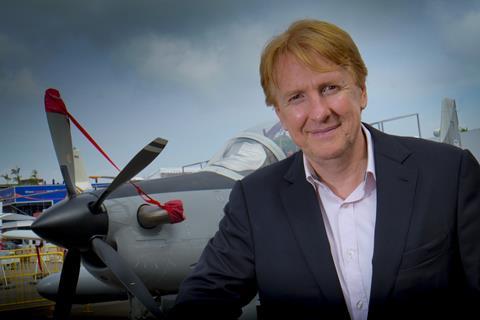 In the second half of the year, however, Embraer notched up some noticeable successes, including November's news that Hungary would order a pair of KC-390s to replace a trio of retired Antonov An-26s.
This followed the delivery of six A-29 Super Tucano close air support aircraft to the Philippines. A long journey for a turboprop at the best of times, the coronavirus pandemic lent the delivery flight an epic quality, with stops in the Canary Islands, Portugal, Malta, Egypt, the United Arab Emirates, India, Bangladesh, Thailand and Vietnam.
Speaking with FlightGlobal via Microsoft Teams, Schneider's pride in the Philippines delivery is clear.
"It was a really big effort, because you have to cross the world with a lot of [coronavirus] affected countries," he says. "Some were closed, required special authorisations, special licences. But it was a great team effort… sure, it cost more in terms of energy and in terms of resources, but we were there."
Manila seemed to appreciate the effort. According to the Philippine Daily Enquirer's coverage of the delivery, defence secretary Delfin Lorenzana mooted the idea of acquiring an additional six examples.
Deliveries aside, Schneider says that the greatest impact of Covid-19 has been felt in sales campaigns, many of which have been suspended as governments grapple with the pandemic. While it is possible, to a point, to discuss advanced defence products over video conferencing, customers much prefer to talk about the innumerable details of defence contracts in person.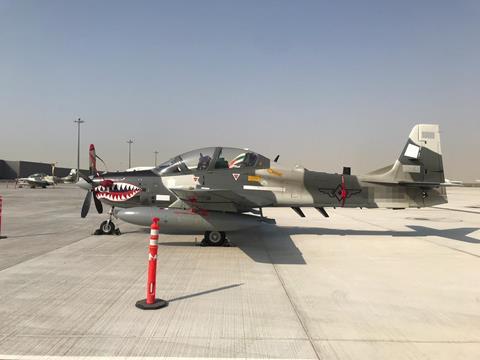 "We didn't lose any campaigns," says Schneider. "We just suspended some of them and delayed others. But we are now retaking them. We believe that we will have the same momentum that we had before the outbreak… and then we will move onwards and we will go ahead."
Schneider, however, declines to discuss individual campaigns for flagship aircraft such as the KC-390 and Super Tucano.
"We don't comment about specific campaigns, because the competition is very keen to hear about them," he says. Moreover, government customers generally prefer a degree of confidentiality about defence deals. He adds that Embraer has "campaigns in all corners of the world".
In regard to the KC-390's prospects, Schneider is confident that the aircraft's payload, speed, maintainability and flexibility will win over customers. In short, the type has great promise internationally – even without Boeing.
"Boeing may perhaps have added some possibilities in terms of sales, but I think that we can manage it alone," he says. He points to the Hungarian order, and adds that next year Embraer hopes to sign another international order for the type. Demonstrating its confidence in the KC-390, the Brazilian air force has already operated it on international missions.
"I'm pretty sure that the plane will be successful, and with or without Boeing we can manage it very well and go ahead and sell the plane in all of the continents. The plane will be flying in all continents, it's a question of time."
Cirium fleets data shows that the Brazilian air force operates three KC-390s, with an additional 25 on order. In addition to the two Hungarian jets, Portugal has five examples on order. There are also a total of 33 letters of intent for the type from Argentina, Chile, Colombia, the Czech Republic, Portugal and aviation services firm SkyTech.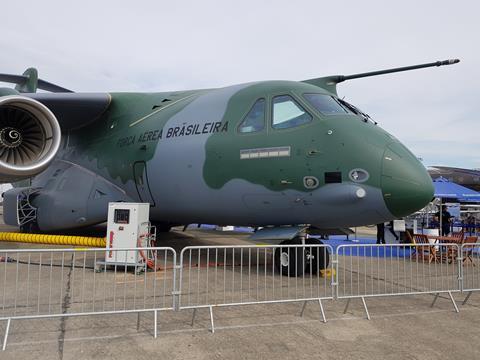 Regarding the Super Tucano, Schneider notes that despite the re-emergence of great power rivalry, which will emphasise areas such as artificial intelligence and cyberwarfare, there will remain unconventional conflicts that require a ground attack asset such as the A-29. He notes that the type is also a superb trainer and can be effective in other missions, such as search and rescue. He has particularly high hopes for the type in Southeast Asia, where it is also used by Indonesia.
Higher up the capability spectrum, Embraer is preparing the ability to produce the Saab Gripen E at its Gaviao Peixoto factory in the state of Sao Paulo. Brasilia has 36 orders for the Gripen E/F, designated the F-39 in Brazil, which involves substantial technological transfer to Brazil. Embraer technicians are in Sweden to learn the nuances of producing the single-engined type. Initially Brazilian Gripens will be produced in Sweden, with production to transition to Brazil.
Schneider is coy on the outlook for a second batch of Brazilian Gripens, only stating that the focus is on building and delivering the first batch, a process that will take a few years.
"Sure, later on I think that [a second batch] is a Brazilian air force decision and we'll be there to support anything that they want regarding the first batch, second batch, or no batch," he says. "Whatever they decide we'll help them and support them."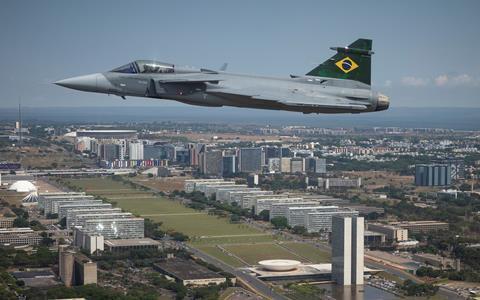 Schneider adds that Embraer is supporting Saab's efforts to market the Gripen to Colombia, which is looking to replace its Cessna A-37s and Israel Aircraft Industries-built Kfirs.
"Saab is in front of this campaign and we are helping them in whatever they need, but the leader of this campaign is Saab. Once we have the final assembly line in Gaviao Peixoto it can be used not only for Brazilian planes, but for planes for other countries… we'll be more than happy to help Saab to assemble planes not only for Colombia, but for other countries as well."
As the KC-390 was developed in partnership with Argentina, Chile and Portugal, Embraer also hopes to win international partners for its most recent project, a new hybrid electric aircraft project designated Short Take Off Utility Transport (STOUT). The aircraft resulting from STOUT will replace the Brazilian air force's 64 Embraer EMB-110 Bandirantes (designated C-95As).
According to Brazilian aviation publication Poder Aero, STOUT will be able operate to rough, unpaved airstrips. It will be able to carry up to 30 soldiers or the equivalent amount of cargo. Unlike the EMB-110, it will have a rear cargo ramp.
Schneider will not be drawn on timelines and other details about STOUT. For the time being, he says, the focus is on delving into the specifics of the aircraft. Embraer is, however, open to working with international partners, even citing the KC-390 experience as a model. He believes STOUT offers an opportunity for countries interested in developing their own aerospace industries a chance to get in on the ground floor, and says there have been international enquiries about the project.
"This is very good for countries who want to master the aeronautical engineering process, because you'll be developing a plane from scratch," he says. "And the best way to learn is to do it from the beginning to the end, crossing all the stages, and understanding all the steps and phases regarding the engineering process."

Greg Waldron is the Asia Managing Editor of FlightGlobal, responsible for the team's airline, aerospace, and defence coverage across the region. He has worked at the company since 2009. In the airline space, Waldron has conducted dozens of interviews with airline leaders in the Asia-Pacific. He also covers areas such as MRO and safety. On the defence beat, Waldron has written extensively about the rise of Chinese airpower, as well as broader airpower developments around the region, such as indigenous fighter programmes, and regional acquisitions of foreign equipment. In addition, Waldron writes about commercial helicopters in the region and business aviation. Waldron worked has a freelance journalist with his work appearing in several business publications.
View full Profile