Virginia-based manufacturer Leidos has won a US Air Force (USAF) contract worth up to $334 million to produce a multi-role hypersonic platform.
Known as Mayhem, the initiative seeks to deliver a "larger class air-breathing hypersonic system capable of executing multiple missions", according to the contract award, which was announced by the Department of Defense on 16 December.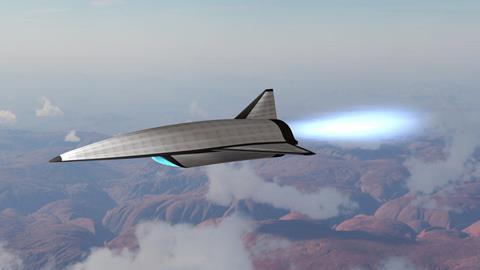 "The Mayhem system will use a scramjet engine to generate thrust, propelling the vehicle across long distances at speeds greater than Mach 5," Leidos says. "Leidos is tasked with designing and developing a large-class version that surpasses current air-breathing systems in range and payload capacity using digital engineering to ensure the design efforts help future development and transition."
Missions for the Mayhem system could include intelligence, surveillance and reconnaissance, and weapons delivery. A key element of the design, per contract requirements, will be a standardised payload interface, allowing the integration of multiple sensor packages or weapons.
The Pentagon is requiring such standardisation, which its calls Modular Open System Architecture (MOSA), in most of its new development programmes. Acquisition officials say the practice will cut down on the life cycle cost of defence programmes, while allowing the faster and cheaper integration of new technologies.
"To deliver the next generation of air-breathing hypersonic system, we'll leverage our years of investment, knowledge and success in the hypersonic field," says Steve Cook, president of Leidos-subsidiary Dynetics.
Leidos acquired Dyentics, which describes itself as developing cost-effective engineering and scientific solutions for national security, space and other sectors, for $1.65 billion in cash in 2019. When Leidos announced the deal in 2019, it listed hypersonics as one of the "growth sectors" in which Dynetics had experience.
Leidos is a relative newcomer to the aerospace sector, compared to more established players such as Lockheed Martin, Raytheon and Northrop Grumman. The firm beat out five other competitors for the Mayhem contract.
The win is Leidos's second major hypersonic contract with the US military. The firm also won a US Army programme to deliver a long-range hypersonic weapon.
The company will perform development work for Mayhem at the Air Force Research Laboratory (AFRL) at Wright-Patterson AFB in Ohio. A working hypersonic vehicle is due to be delivered by 2028, per the contract award.