The US Air Force (USAF) says it has successfully tested a fully-assembled version of a prototype hypersonic cruise missile.
The service said on 12 December that it launched a Lockheed Martin AGM-183 Air-Launched Rapid Response Weapon (ARRW) from a Boeing B-52 bomber off the coast of California. The test took place on 9 December.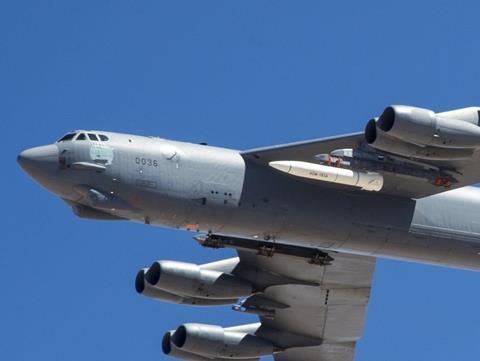 "Following the ARRW's separation from the aircraft, it reached hypersonic speeds greater than five times the speed of sound, completed its flight path and detonated in the terminal area," the USAF says. "Indications show that all objectives were met."
While this was not the first successful test of the Lockheed-designed hypersonic weapon, the USAF says it marks the first time it launched a full prototype operational missile.
Such a fully-assembled system is known as an "all-up-round" in defence parlance. Previous ARRW tests focused on specific components, such as proving booster performance.
USAF Brigadier General Jason Bartolomei, armament directorate programme executive officer, notes the ARRW was designed and now successfully in launched in five years.
The USAF says the ARRW is designed to enable American forces to hold fixed, high-value, time-sensitive targets at risk in contested environments from long-range distances. The platform will also enable rapid response precision strikes against heavily defended land targets.
The ARRW was first tested in 2019. At the time, the USAF said it hoped to have a hypersonic weapon at initial operating capability by 2022, but that timeline proved overly optimistic.
The Pentagon is also testing two alternative hypersonic designs: another USAF system known as the Hypersonic Attack Cruise Missile and a concept known as the Hypersonic Air-breathing Weapon Concept, being developed by the US Defense Advanced Research Projects Agency (DARPA).
That agency announced a successful test of the scramjet engine-powered hypersonic vehicle in April 2022.
The development of hypersonic-capable weapons, and the means to counter them, has become a major focus for defence leaders in Washington DC and Beijing in recent years.