In an action-packed final month, 2022 reached its conclusion with no fewer than three "sixth-generation" combat aircraft programmes making key advances, as multiple Western and allied nations moved to outpace their so-called near-peer rivals.
The highest profile development was the unveiling of the US Air Force's (USAF's) next strategic bomber: the Northrop Grumman B-21. Revealed in Palmdale, California, the stealthy Raider is the spiritual successor to the service's small fleet of B-2 Spirits.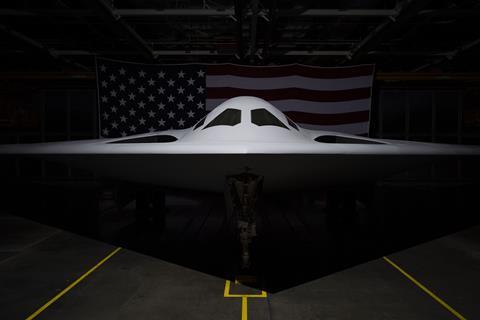 Crucially, with a projected 100 examples to be purchased, the new, nuclear-capable model is more affordably priced – albeit at an estimate of $631 million each – and will be easier to maintain and upgrade.
To enter frontline use later this decade, the Raider fleet will represent a more capable and potent deterrent to potential foes such as China and Russia, the Pentagon says. Delivered by US defense secretary Lloyd Austin at the unveiling event, Washington's message to such global players is unequivocal: "The risks and costs of aggression [against the USA and its allies] far outweigh any gains."
In Europe, meanwhile, two competing fighter development projects cleared their latest hurdles on the way to achieving service entry from 2040 and 2035, respectively.
After a one-year delay caused by workshare wrangles between Airbus Defence & Space and Dassault Aviation, the French-German-Spanish Future Combat Air System (FCAS) activity at last took off, with a Phase 1B contract signature.
The agreement sees Dassault take the role of prime contractor and "architect" for the FCAS capability's New Generation Fighter, but the expected first flight of a demonstrator has slipped until 2029 due to the protracted impasse.
Now the three-nation programme must make up for lost time, and – critically – ensure that its new-found harmony is maintained until a Phase 2 decision is taken in 2025 to continue further.
Also entering its next stage is a UK-led effort centred on delivering a future manned Tempest fighter. On 9 December, this was formally rebadged as the Global Combat Air Programme (GCAP); now as a joint endeavour between the UK, Italy and Japan.
Under the trilateral effort, the nations will merge their previous Tempest and F-X fighter needs to deliver a shared solution from the middle of next decade. The inclusion of Japanese industry is, says UK Prime Minister Rishi Sunak, clear evidence that "the security of the Euro-Atlantic and Indo-Pacific regions are indivisible".
Both the FCAS and GCAP initiatives also include the development of supporting air-launched weapons, unmanned remote carrier vehicles and advanced data networks. Such technologies are needed to deliver a key advantage in speed of action against potential adversaries like Beijing and Moscow, who are advancing their own next-generation aircraft systems, along with fielding hard to counter hypersonic weapons.
The USAF, meanwhile, is secretly progressing its own Next Generation Air Dominance programme to – along with the B-21 – help counter such sophisticated foes.
Whether these pursuits of seemingly exquisite capabilities can survive versus the reality of pressured budgets and fractious national industrial needs remains to be seen. But for advocates, the appeal and need is clear: namely, the greater quality of Western equipment and decision-making will continue to trump quantity, both on and above the battlefield.
And, they note, while the war in Ukraine has seen low-cost tactical unmanned air vehicles and even adapted hobbyist drones play a significant role, this is only because neither Moscow or Kyiv have been able to secure the most critical advantage during the conflict: total air dominance.