L3Harris Technologies intends to acquire propulsion systems expert Aerojet Rocketdyne Holdings in an all-cash transaction valued at $4.7 billion, the companies said on 18 December.
The deal, which L3Harris expects will close in 2023, could become a lifeline for Aerojet Rocketdyne. That company had reportedly been struggling to deliver rocket engines earlier this year.
The planned acquisition still requires regulatory approval. It comes after Lockheed Martin abandoned a bid earlier this year to acquire Aerojet Rocketdyne following regulators' opposition to that transaction.
Aerojet Rocketdyne chief executive Eileen Drake calls the tie-up "an exciting new chapter" in the company's history, which will offer "additional opportunities" for the firm and its employees.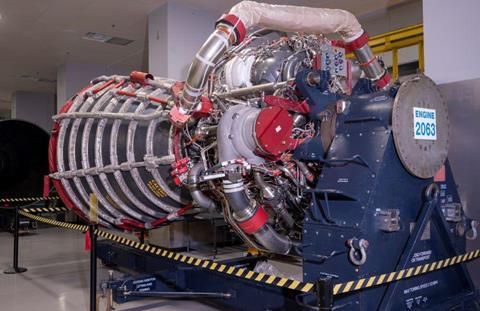 "This agreement will accelerate innovation for national security propulsion solutions while providing a premium cash value for our shareholders and tremendous benefits for our employees, customers, partners and the communities in which we operate," says Drake. "Joining L3Harris is a testament to the world-class organisation and team we've built and represents a natural next phase of our evolution."
"As part of L3Harris, we will bring our advanced technologies together with their substantial expertise and resources to accelerate our shared purpose: enabling the defence of our nation and space exploration," Drake adds.
L3Harris says it will finance the transaction with existing cash and cash raised by issuing new debt.
"With this acquisition, we will use the combined talents of more than 50,000 employees to drive continuous process improvement, enhance business operations and elevate the performance of this crucial national asset," says L3Harris chief executive Christopher Kubasik.
Aerojet Rocketdyne provides the RS-25 engines on NASA's Artemis' core rocket. The RS-25 is an update of the same engines that powered the Space Shuttle. RS-25s burn hydrogen and oxygen (both in liquid form) and generate 418,000lb (1,839kN) of thrust each at sea level,
In February, Lockheed called off its $4.4 billion planned acquisition of Aerojet Rocketdyne, which had been announced in December 2020, after the US Federal Trade Commission (FTC) said it would fight the transaction.
The deal would have helped Lockheed grow in areas such as hypersonic products, tactical missiles, integrated air and missile defence, strategic systems and space exploration. Aerojet is already a key element of Lockheed's supply chain.
On 25 January, the FTC sued to stop Lockheed from acquiring Aerojet Rocketdyne, saying the tie-up had potential to destroy competition in an area vital to national security and US defence interests. It alleged Lockheed's proposed acquisition would give Lockheed control over critical propulsion inputs that rivals – including Boeing, Northrop Grumman and Raytheon Technologies – require to compete against it. That, in turn, would endanger national security, limit research and development and stifle innovation.
In a November filing with the US Securities and Exchange Commission (SEC), Aerojet Rocketdyne blamed "supply chain disruptions and necessary technical and manufacturing changes" for recent turbulence in production. A public spat between members of the company's board of directors in June, as a result of the failed Lockheed bid, led to a new board being elected.