The US Department of Defense (DoD) will provide rocket engine manufacturer Aerojet Rocketdyne with some $215 million to modernise facilities and expand production at three sites across the USA.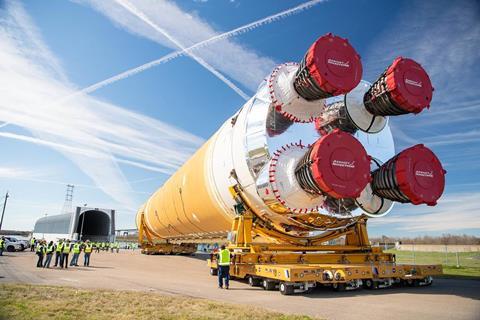 The Pentagon said on 14 April that the DoD Office of Manufacturing Capability Expansion and Investment Prioritization had entered into the agreement with Aerojet Rocketdyne as a way of strengthening the US military's supply chain for critical rocket motors.
"The [DoD] is moving forward with appropriate urgency to support strategic industrial sectors crucial to protecting national security," says deputy secretary of defense Kathleen Hicks. "This critical investment will modernise rocket propellant and motor production in the United States, in addition to creating technical and skilled labour jobs at multiple domestic facilities."
The mission of the Pentagon office providing the funds, according to the DoD, is to address supply chain and industrial challenges that could result in "critical shortfalls".
Aerojet Rocketdyne is a key supplier of engines that power numerous missile systems, including Raytheon's Patriot air defence system and FIM-92 Stinger anti-aircraft missile. The company is also providing the scramjet engine for the Hypersonic Air-breathing Weapon Concept ultra-high speed missile being developed by the US Defense Advanced Research Projects Agency (DARPA).
Civil and private space launch vehicles also use Aerojet Rocketdyne engines, including those operated by NASA and United Launch Alliance – a joint venture of Lockheed Martin and Boeing.
NASA's heavy-lift Space Launch System (SLS) is powered by four Aerojet Rocketdyne RS-25 engines that burn hydrogen and oxygen in liquid form, generating 418,000lb (1,839kN) of thrust each at sea level. SLS will propel the crewed Artemis missions taking astronauts back to the moon.
The original RS-25s were used on NASA's Space Shuttle. Aerojet Rocketdyne is currently redesigning the engines to be more efficient and easier to manufacture. The newly redesigned RS-25s are expected to make their debut on the Artemis V mission.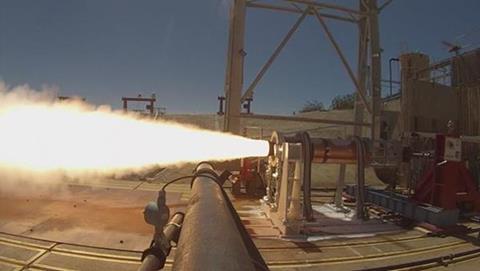 The agreement between Aerojet Rocketdyne and the Pentagon will fund expansion and modernisation at the company's facilities in Camden, Arkansas, Huntsville, Alabama and Orange County, Virginia.
"The funds will modernise manufacturing processes at the company's facilities, consolidate production lines, purchase equipment, build systems to process data and increase production and delivery speed," the DoD notes.
L3Harris Technologies acquired Aerojet Rocketdyne in December for $4.7 billion. An earlier bid by Lockheed to acquire the rocket engine producer was rejected by regulators, who cited concerns about competition in the defence manufacturing industry.
The US Federal Trade Commission alleged Lockheed's proposed acquisition would give Lockheed control over critical propulsion inputs that rivals – including Boeing, Northrop Grumman and Raytheon Technologies – require to compete against it.
That in turn would endanger national security, limit research and development and stifle innovation, the agency argued. Lockheed subsequently abandoned its bid.
The acquisition attempts were spurred by production challenges at Aerojet Rocketdyne, which the company blamed on supply chain disruptions and cost inflation following the Covid-19 pandemic.