The world's only fleet of private fighter jets will soon be flying against US Air Force (USAF) pilots.
Top Aces, a Montreal-based firm that provides air combat training services, has received a five-year contract from the USAF to provide adversary air (ADAIR) training to pilots of the Lockheed Martin F-35 strike fighter and Lockheed F-22 air superiority fighter.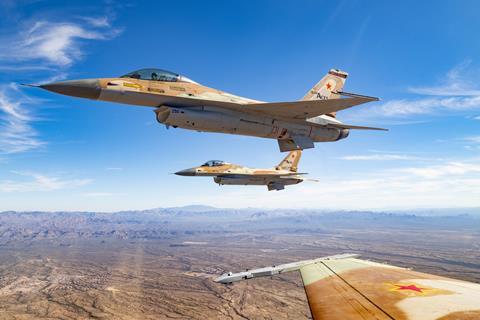 The company, with operations in Mesa, Arizona, said on 12 September that it was selected under the USAF Combat Air Force Contracted Air Support programme to provide ADAIR services for the USAF's fifth-generation fighter squadrons at Eglin AFB in Florida and Luke AFB in Arizona.
"Top Aces' cadre of highly-experienced aggressor pilots and maintenance crews looks forward to supporting Luke and Eglin to fulfill their advanced combat training needs," says Russ Quinn, Top Aces president and a former USAF aggressor pilot.
Quinn joined Top Aces in 2020, after heading air force business development for L3Harris. He also flew on the USAF Thunderbirds flight demonstration team, according to his company biography.
The contract is worth up to $175 million for Top Aces.
Flying against the stealthy F-22s and F-35s will be Top Aces' squadron of Lockheed F-16 Falcons. Those jets, which were procured from the Israeli defence ministry, represent the only commercially-operated fleet of fighter aircraft in the world.
The company uses an upgraded version of the single-engined F-16, which it calls the Advanced Aggresor Fighter (AAF), complete with a non-standard desert camouflage paint job.
Improvements to the F-16 AAF include an advanced electronically scanned array (AESA) radar, helmet-mounted cueing systems, electronic warfare pod, tactical datalinks and high off-boresight missile capabilities, according to Top Aces.
Other modifications include the company's proprietary Advanced Aggressor Mission System open architecture, which allows for accurate replication of adversary tactics, the company says.
"With our fleet of F-16 AAFs, we deliver a calibre of adversary air training that was previously non-existent. Our commitment is to deliver professional excellence and significant cost efficiencies," says Quinn.
Top Aces received military flight release from the USAF for its F-16 fleet in August.
In addition to F-16s, Top Aces operates the Dornier Alpha Jet and Douglas A-4 Skyhawk. Combined, the company says they represent the largest fleet of privately-operated fighter aircraft in the world.
In March, Top Aces acquired Las Vegas-based Blue Air Training, which provides ground-attack training to joint terminal attack controllers. The two firms continue to operate independently under their pre-existing names.
The financial terms of the deal were not disclosed, but a company representative confirmed to FlightGlobal in March that Blue Air Training became a wholly owned subsidiary of Top Aces and reports to the Top Aces board of directors.
Top Aces was founded by two former Royal Canadian Air Force Boeing CF-18 pilots.